Weevils in strawberries and control them
Weevils in strawberries and control them
Weevil on strawberries, how to deal with pests such question is raised by all gardeners who wish to enjoy a big and juicy berry. There are many ways that will help to get rid of this bug and will allow to forget about a similar issue.
The processing time from strawberry weevil
Like most insects, the weevil is active from mid-spring. When the temperature is set in the plus range of 10 degrees and above, the beetle is an opportune time for egg laying. At this time, observe extreme care: to do the weeding, just remove the infected plants to comply with watering and preventive insecticide treatments. Another important period is autumn, because during the summer the bushes could be the object of attack of beetles.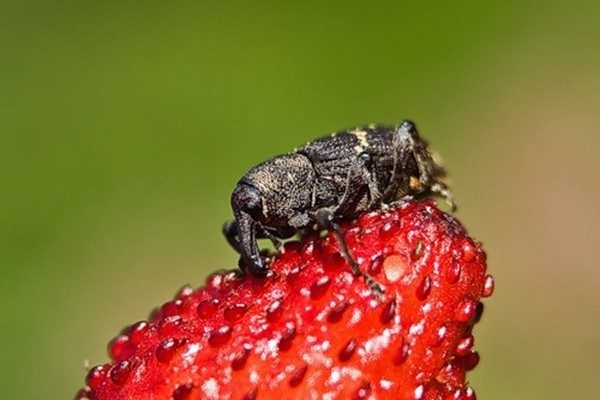 Spring
First strawberry plantation thoroughly cleaned after winter: rake the withered last year's leaves, get rid of the dead plants. When cleaning is finished, the ground around the garden bed where the growing culture is cultivated. In the ground immediately fertilized, preferably with nitrogen-containing components, and put a thin layer of mulch.
Autumn
When the entire crop is harvested, the bushes carefully examined for deformation. In the presence of a suspicious thickened stems or deformed leaves, plants rip and burn. The remaining bushes need to handle any insecticidal agent with broad spectrum of action, since in addition to weevils shrubs can hit mites, nematodes, slugs.
How to handle the strawberries from weevil
When processing, use drugs, low hazard for bees. At the end of April – early may flowering period occurs not only strawberries, but many other plants. At this time, the mass flight of bees and other insect pollinators. Destroying pests great harm can result useful insects.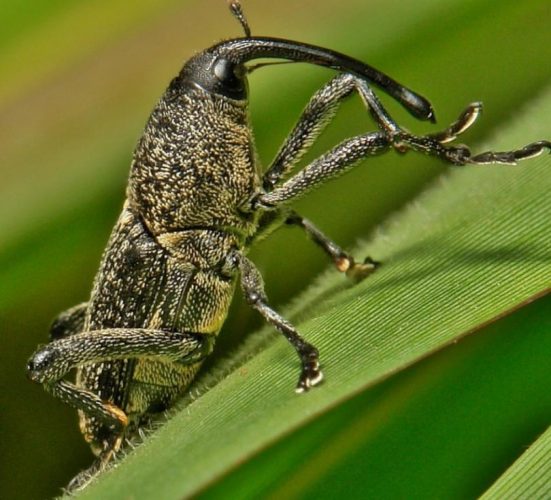 Considered low-risk drugs such as:
"Fitoverm";
"Angio";
"Spark-Bio";
"Admiral".
Treatment should be performed in dry, windless weather. If, immediately after treatment it rains, then the drug washed away from the plants. Spraying must be repeated. When choosing an insecticide, you should pay attention to the temperature of the air it is most effective. Some drugs have the desired effect only at certain temperatures. Weevils in strawberries and control them.
The insecticide treatments at blooming colors is not carried out.
What to spray strawberries from a weevil?
Spray strawberries from a weevil insecticide can means:
"Le Corsaire",
"Actellic",
"Vofatox",
"Ambush",
"Gordon",
"Metaphos",
"Intavir",
"INTA-C-M" etc.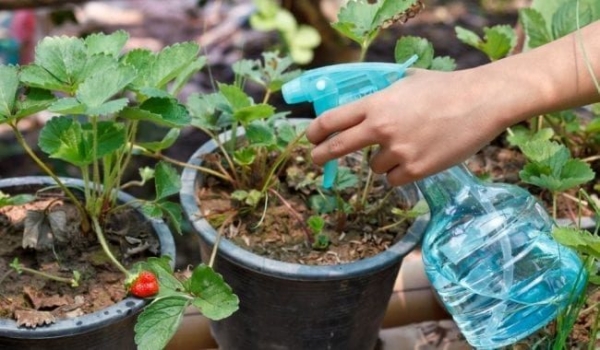 These drugs are sold in any country store. Also use the new drugs of biological control for pests.
"Nameback"
"Anthem-F"
"Spark-bio",
"Akarin",
"Fitoverm".
Biological drugs are more than harmless to humans. They are used in spring or autumn. The processing of strawberry, strawberry and raspberry performed twice, preferably to share with neighbors. Otherwise, the process of reproduction is never stop.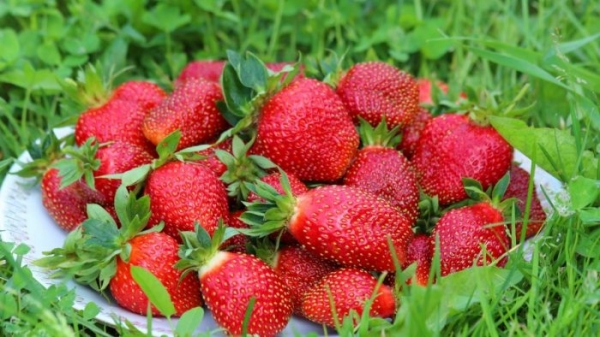 Spraying insecticides (Intavir, Corsair, Actellic etc.) should be carried out no later than 5 days after the beginning of flowering of strawberries, preferable in the morning. After harvesting the plants are treated again to destroy a young generation of weevils. Why not spray during the active flowering and when it appeared green berries? The poison will harm the bees gathering nectar on the flowers, and, once on the berries, the chemicals harm us.
We don't wait until pests will destroy the crop (and even gather there will be nothing) and spray as soon as you find weevils on the flowering bushes of strawberries (in the beginning). And look pests like this: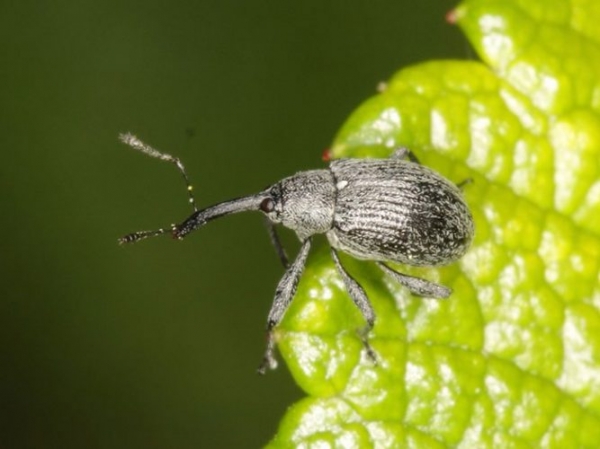 How to spray:
Get rid of the weevil in strawberries help us insecticides "Intavir" and "INTA-C-M". Use them according to instructions, in valid doses. And harm from the use of chemicals for many years until he was discovered.
We take 1 tablet and in the package directly grind it.
Then pour in a bucket half full of water, stir thoroughly.
Add the water until the bucket is ready. For spraying you can use a spray bottle, garden sprayer "bug" or a broom the old fashioned way.
Take care of your own safety: wear gloves, garments with sleeves, mask or hat with netting.
Traditional methods in the fight against the weevil in strawberries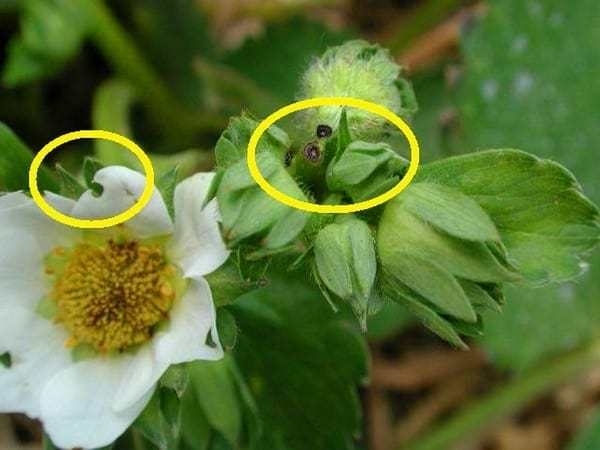 How to handle the strawberries from a weevil that the substance was not chemical based? There are many folk methods that will help to get rid of these pests. A very effective way believe the drug on the basis of 100 grams of garlic, 400 ml of pine extract and 2 tablespoons of boric acid. This solution insist on for 7 days and then sprayed them with the garden.
Quite effective aid in the extermination of the weevil will be able to provide the potassium permanganate. You will need to dissolve 5 g of potassium permanganate in 10 l of water. To enhance the effectiveness of a substance in solution is to add a tincture of Cayenne pepper.
It is perfectly repels bugs. In early spring, as soon as the strawberries will appear with the young leaves, it is recommended to treat with a solution of ammonia. For 10 l of water take 2 tablespoons of this substance. In addition, in order to get rid of parasites, you can sprinkle the bed with tincture of tansy, only to buy it need to the pharmacy, because the fresh plant appears later than strawberries. To deter weevils can fern leaves spread out under the bushes of berries. With the same purpose around the strawberry plantations can be planted garlic and onions. This decision is due to the fact that pests can't stand the smell. Weevils in strawberries and control them.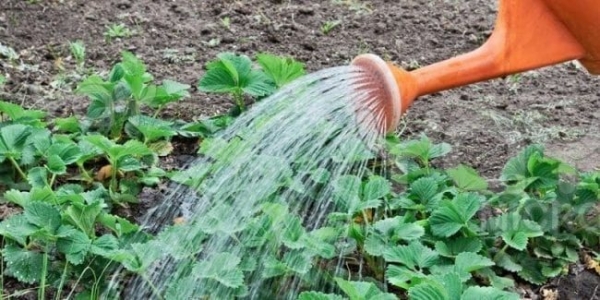 Weevil on strawberry bushes will disappear and if you make another tool for spraying. You will need to take 100 grams of mustard powder and dissolve it in 3 liters of water. Experienced gardeners recommend the treatment 2 times a day. Another effective drug — based soap. You need to take 3 kg of ash and 40 grams of soap, grated on a coarse grater. Components are mixed and the resulting mass lay under every Bush. In addition, the ash is allowed to use and clean. It spread a thick layer around the plantation. A good aid in combating insects having the infusion of wormwood, and Cayenne pepper. It is necessary to take 70 grams of wormwood, 2-3 pod bitter pepper, pour all 1 liter of water, infuse for 2-3 hours and spray the bushes.
Sometimes around the strawberry plantations are planted in lavender.  Which not only beautify the garden but also will be able to scare off the weevils, because they are unpleasant its gentle aroma.
It should be noted that traditional methods are effective as long as the rains that will wash away all the work of extermination of weevils. These ways of getting rid of insects require less time and effort, but most necessary for the processing of components in every household. In addition, they are completely safe for man and his health.
Prevention from weevils
To prevent the onset and uncontrolled proliferation of beetles of the elephants will help the most ordinary measures of care:
1. Timely weeding and destruction of old foliage.
2. Observance of technology of growing strawberries.
3. Deep plowing the soil in autumn.
4. Regular updating of garden beds, mulching.
In addition, it is recommended to arrange the planting of the strawberries on the maximum possible distance from other plants of interest to the pest. To protect the berry will help growing near onions and garlic.
Major mistakes when dealing with weevils
Many believe that the danger for strawberries is only Mattila-strawberry weevil and don't pay attention to other sorts of bugs. This is not worth it. As mentioned above, there is a polyphagous species that can destroy indiscriminately any culture. Weevils in strawberries and control them.
Another common error is to expect when dealing with bugs pests only on the individual, though effective, measures. If you do not use comprehensive measures, the bug will come back.
Garlic: cultivation and maintenance in the open ground in spring!
How to pour orchids in expanded clay?
Species and varieties of dracaena