Garlic is a favorite of many spicy vegetable, so it is grown in private farms along with other crops. To get big healthy head, you must follow the rules of farming and the care of this plant. Consider the features of cultivation of garlic in the ground, harvest and storage.
What is the difference between spring varieties from winter
Garlic is divided into 2 groups varieties – summer and winter. The title already clear that the main difference between them is that the first planted in the garden in the spring and second in autumn. They differ in the number and size of the teeth: the winter garlic is less than the spring, but they are usually larger, more aligned with value. Therefore, the head of winter is usually more. All the teeth are arranged around the stem in 1 row, the stem is pronounced hard. This group of varieties is divided into netrakona and strelkauskas, the latter usually ripen earlier. Most often in private farms it is grown winter crops.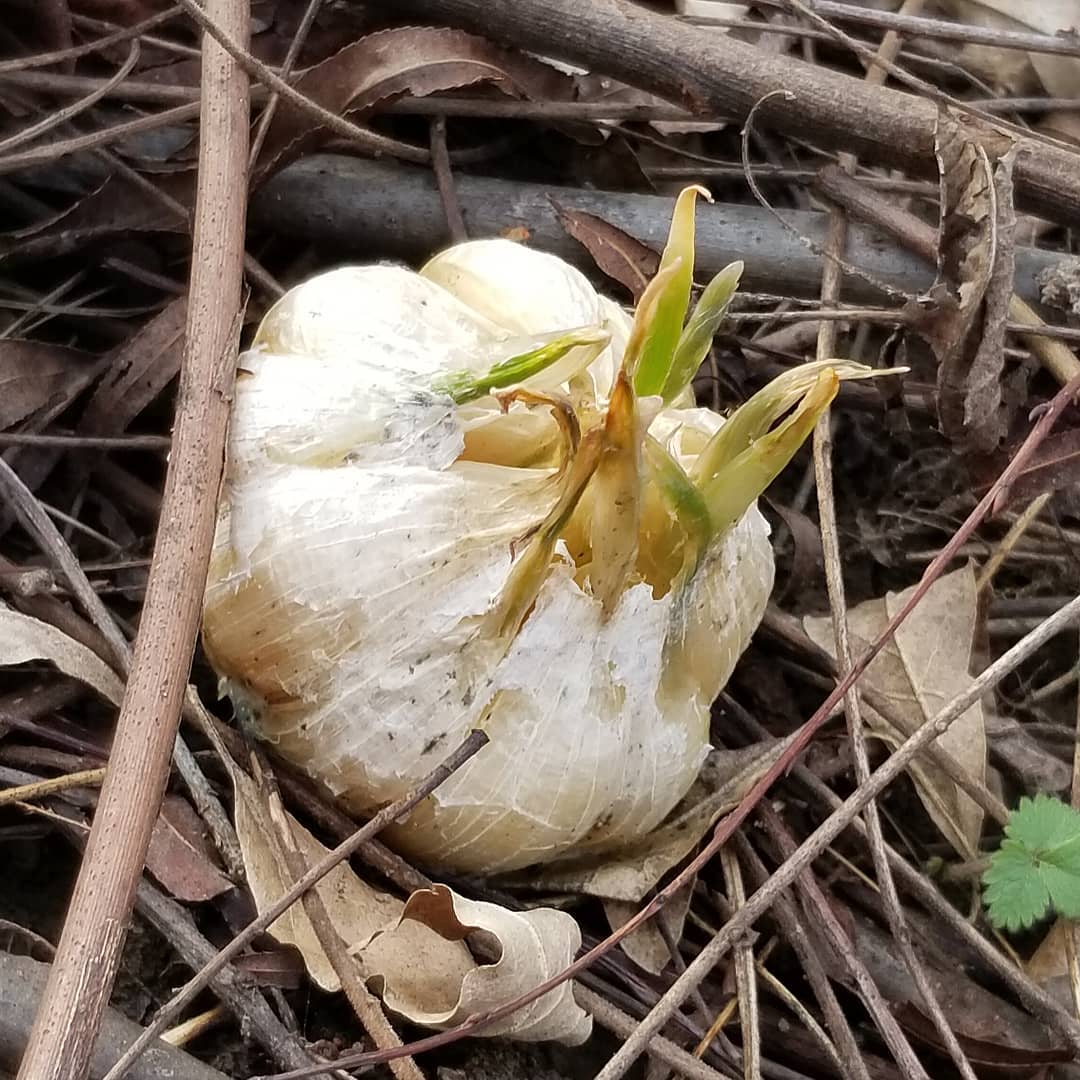 Spring garlic is not strelyatsya, teeth it smaller, vary in size and are located around the center is not in the correct order, and chaotic. Head spring varieties have a longer storage life of the winter, if stored properly they can survive until the next harvest.
The best varieties of garlic for planting
For home cultivation of vegetables, you can choose any variety according to the different characteristics meet the requirements of the grower.
Under the winter
Of the varieties of winter garlic can be choose, such as:
Zubrenok (Strachowice, harvest);
Alkor (popular among gardeners, forms a head of medium size, their color is pink-purple);
Lyubasha (Strachowice, has a juicy high feathers, forming a large flattened head);
Herman (the bulbs he has average size, but this variety has the longest shelf life);
The doctor (not strelyatsya, heads can consist of Zubkov 1.5 dozen, well they are transported).
In addition to these varieties there are other varieties with interesting characteristics.
In the spring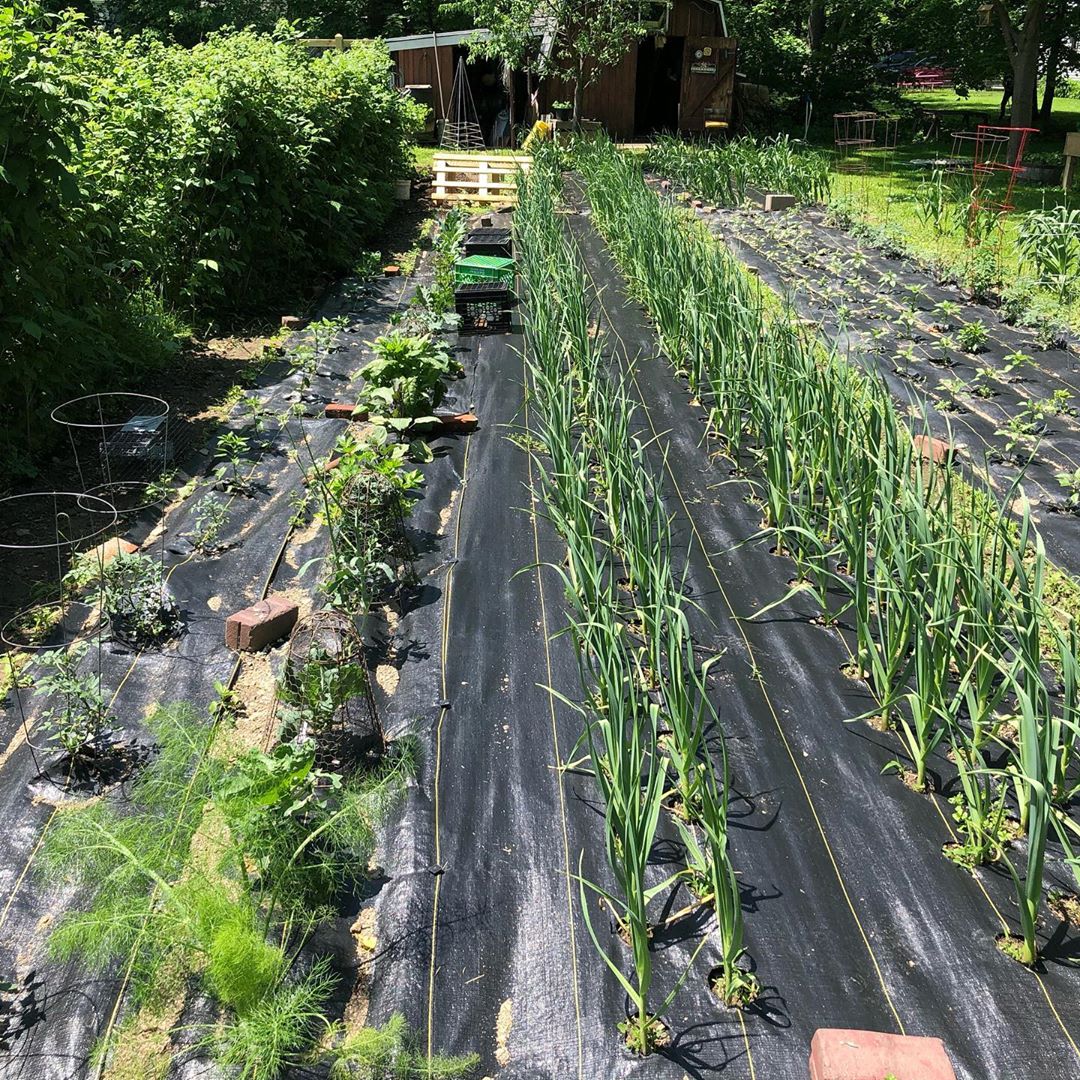 Selecting species for spring planting, you can look at such varieties of summer garlic:
Elenovskaya (not strelyatsya, yielding, medium maturing);
Gulliver (forms white flattened heads, compact, withstand long storage);
Victorio (not strelyatsya, gives high yields, is resistant to various diseases).
As in the case of winter, an assortment of spring garlic is not limited to these varieties, though in General it is small.
The preparatory phase
It includes the choice of an optimum place on the site, as well as soil preparation and planting cloves.
The best predecessors
Under this culture it is best to prepare the site where once were growing green manure crops, i.e. cereals and legumes. They accumulate nitrogen and are a good source of other nutrients for vegetable plants.
To plant the garlic after pumpkin, cabbage, berries. It is impossible that this culture has grown after carrots, beets, potatoes and other root vegetables (since they greatly Deplete the earth), bows of various types and the garlic. Not recommended also Solanaceae.
Site selection and soil preparation
Garlic needs to grow in a place open to sun and air. If the site is small and need to save the area raised beds, you can plant the strawberries, with whom he gets on well. It is also possible to place near fruit bushes – gooseberries, raspberries, currants. The garlic will scare away pests from them. It is appropriate to plant it near tomatoes, eggplant and peppers – it will reduce their likelihood of Contracting Phytophthora and will scare the beetle, and the culture will grow better from this neighborhood. It is not recommended to plant garlic near beans and cabbage.
Soil for garlic should be fertile, sandy loam or loamy, loose and lightweight, breathable, it easily should be moist but not stagnate it. The acidity of the soil is neutral or slightly acidic.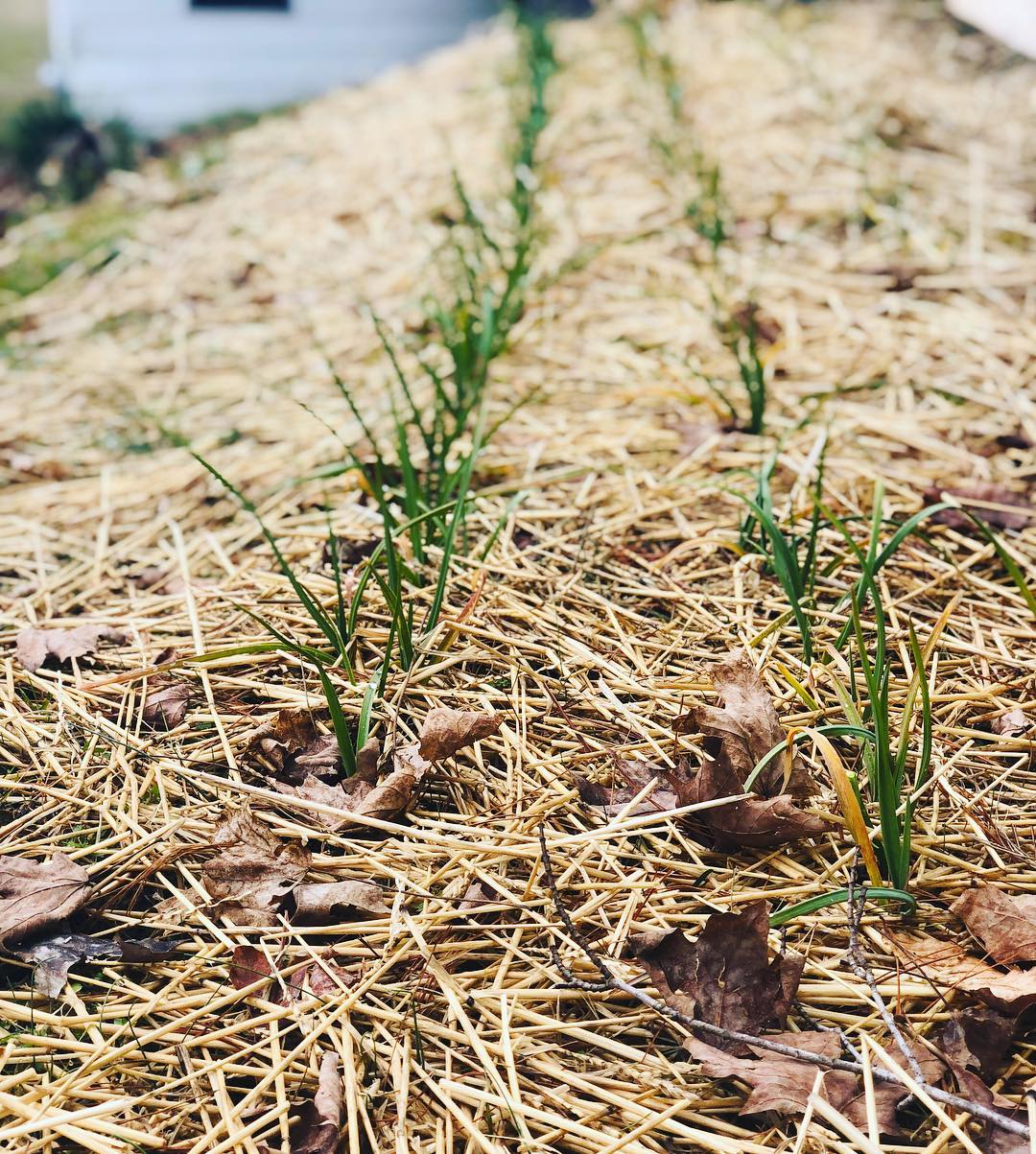 Under winter garlic site is prepared several weeks before planting. In the land contribute sand, well decomposed humus and ash. Fresh manure is not used. Organics are laid out on the site 3-5 cm layer, then dug up the ground.
The preparation of seed
To grow big garlic, you will need a quality planting material, that is, completely healthy teeth, smooth, without damage and stains, dense, do not lose moisture. The size should be above average to large, from small will grow weak plants.
The next stage is processing Zubkov preparations for disinfection of, for example, Phytosporin, Maxim, etc., a normal solution of potassium permanganate (within 30 min) or saline solution (3 tbsp salt per 5 litres of water) for 5 min.
The cultivation of winter garlic
Most often gardeners interested in is the cultivation of winter garlic in the ground, because he is still more popular. Agricultural winter varieties is somewhat different from the growing summer.
Planting dates
The teeth are planted in the fall, with the 2nd half of September to the 2nd half of October. Generally, you need to have time to plant them on ridges 1-1. 5 months before the onset of cold weather, to have roots that will not allow the teeth to freeze solid in the winter (with a length of approximately 10 cm). At the same time to germinate they should not.
The methods and schemes of planting
Most often, the teeth are placed on the ridges in the common scheme of landing of winter garlic: 8-10 cm in the row and 15-20 cm between rows. But there is another option, it involves placing Zubkov in 2 layers. First, they are planted according to the scheme of 15 cm by 15 cm Garlic 5-6 cm deepened by a Second row are placed in the squares that are formed from the first row. Planting depth in this case is 10-13 cm In this arrangement, the teeth less freeze in the winter, and save square footage.
When growing garlic from bullock, that is, of aerial bulblets, which in the home cultivation of this crop is often used to update the planting material, planting for the winter and preparing for it are as usual. Layout and planting depth vary – bulbs placed at a distance of 5 cm and deepened by 3-4 cm After planting the seeds of garlic sprinkled with a thin layer of humus or peat and cover all with mulch.
Next year they will produce large odnotonovye bulbs that also need to be planted on the ridge. The layout on the ridges to 10 cm in the rows and 20 cm between them. Pour the garlic during underwinter landing is not necessary.
Preparing for winter
After planting garlic, cover with a layer of mulch material: thick layer of leaves, straw or hay. It will protect the teeth from freezing and sudden thawing, thus save them from destruction. Cover shoot in the spring immediately after the snow melts.
Growing spring garlic
These varieties of garlic planted in the spring, and before that teeth stored in a dark cool place so they are not sprouted, not dry and not rotted. Preparation is exactly the same, that is, calibration and soaking in solutions of disinfecting agents.
Planting dates
Carry out planting of spring garlic in the spring after the snow melts and the onset of steady heat, it is about the month of April. It is important, according to agricultural cultivation, that the soil is not dry, it preserves the moisture of the snow, as she will need teeth for rooting.
Patterns and rules of landing
Should adhere to the following schemes of planting garlic: 6-8 cm between large teeth in a row and 4-6 cm between the average. Density at 1 m is approximately 50 PCs Gubina seal – 4-6 cm After landing to cover the teeth with a thin layer of humus.
Particular care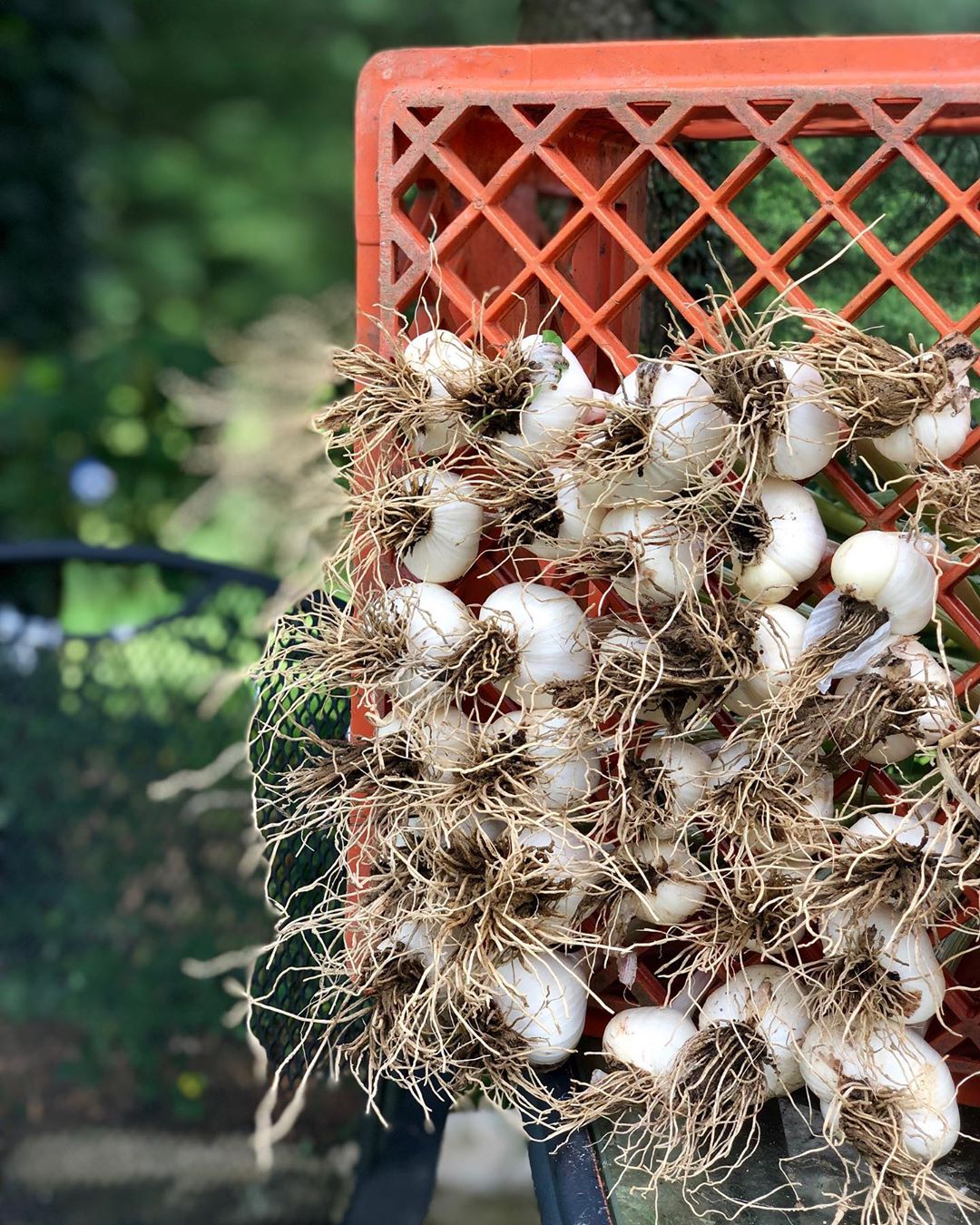 Early spring care of winter garlic begins with harvesting of mulch. This must be done in order to land faster warmed and plants started to grow.
Watering
In the spring, watering young garlic should be quite abundant. Watering can be done about 1 time a week, but to pour so much water that it wet the ground to a depth of about 30 cm.
In the future, this vegetable does not need too much moisture, so pour it not worth it. Need to be watered only if the soil is dry, especially in the heat. If it rains or overcast, with no irrigation can and does do. Especially in wet soil plants quickly sick and fungal infectious diseases. According to the technology of cultivation, when the heads are almost shaped, watering can be stopped.
Gardeners, more than a year growing garlic, note that at moderate watering it gets more concentrated flavor and taste. Loosening and weeding is also required. They are carried out after irrigation or rains. But if you put on the ridge mulch, you can reduce their number.
Dressing
In the period of active growth of foliage and heads of garlic in need of fertilizing with mineral and organic fertilizers. The first introduction is carried out shortly after germination Zubkov. Use any nitrogen fertilizers, for example nitrate (6 g per 1 sq. m.), superphosphate (10 g) and potassium sulfate (6 g). Second time spend feeding in a month with the same mixtures and at the same dosage. Organic is allowed to use the manure slurry (1 to 50), herbal infusions.
The third Deposit comes when you begin to form bulbs. Now to get the large heads make phosphorus-potassium mixture or wood ash.
The removal of arrows
Summer strelkauskas varieties of garlic start to throw away the stems. They must be removed, otherwise heads will not or they will fine. Wait until they grow up, don't need, cut them once they reach a height of about 10 cm.
Left arrow only on those instances that are grown for bullock. To pull out the stalks, as you can damage the plant, it is better to carefully cut with a knife or scissors. Arrows to throw away not necessarily, they can be marinated.
Protection from diseases and pests
Despite the fact that garlic is often used to combat pests and diseases of garden vegetables, he can also be vulnerable to diseases and attacks by insect pests. That is why the complex of works on care of the garlic in the open field enter specialized treatment or folk remedies.

Harvesting and storage
To determine the time of onset of harvest in the country is easy. It will indicate the plants themselves. If they have the leaves turned yellow and fell to the ground, the head was formed and was covered with glittering white scales, you can begin cleaning. The time of harvest in different regions occurs at different times: between mid July and end of August.
According to the rules of harvesting and storage garlic is recommended not to trim from the head, and leave them to dry and ripen, together with stems. Thus prepared vegetables stored much better.
The cultivation of winter and spring garlic varieties for the home garden will be successful if you follow the rules of farming culture and taking care of her. Grown with their own hands, the heads will be the most fragrant and delicious.
Carnations perennial in the garden, planting and care