The lady's slipper or paphyopedilum
The lady's slipper is the only Orchid that is able to grow outdoors in our climate. It is a perennial herbaceous plant of the family Orchidaceae, also known as the lady slipper, the flower — moccasin, Adam's head, the Shoe, limestone, cuckoo boots, Marin boots, cocks, boots.
All species and genera of the shoes have a distinctive, unusually large wrapped lip, spherical, saccular, or oval, often glossy, which is similar to the Shoe. The sail and the side plates can be of different shapes but mostly elongated, sometimes twisted in a spiral, often differ in color from the lip and from each other.
As always with orchids, under one name collected different species and even genera: shoes is among paphiopedilum, phragmipedium and Cypripedium. What is Cypripedium called «Shoe present» and only they can grow in the open field and even meet in our woods.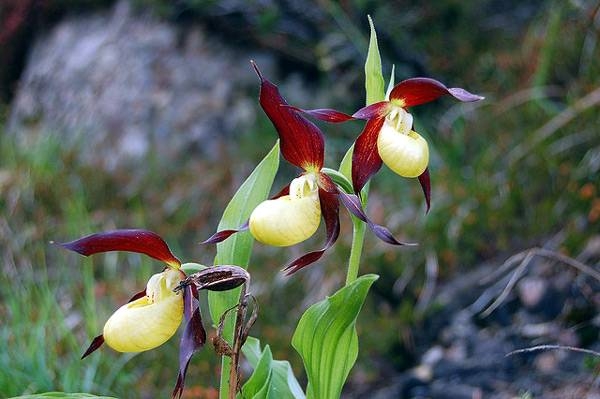 In order to learn how to care for your Orchid, you should ask about her pedigree. In General it can be said that among venerini shoes rarely (up to 10 types of paphiopedilums) are epiphytic varieties with green aerial roots, like Phalaenopsis and many other orchids room. This is mainly terrestrial or lithopane (living on rocks) species.
Unfortunately, in the forests of the temperate climate this plant is rare, its numbers reduced due to cutting for bouquets and transplantation on the infield. At the moment it is included in the red books of all European countries and Russia.
Growing conditions and care
As mentioned above, the conditions are very different for different species and genera. Of the common characteristics worth mentioning are:
all of these types every year bloom on new growth (escape),
in nature, growing on earth or rocks, so the substrate though easy, but fairly small fraction.
the root system is shallow, familiar to our eyes (not thick solid green «worms» and a thin densely woven roots with seals – pseudobulbar.
Pot or container need broad, preferably unglazed clay. The optimal ratio between the height and diameter is 1:2.
develop slowly
do not tolerate drought and salinization of soil
love the high humidity and spraying – use trays filled with expanded clay and water or satelite the surface of the soil with moss-sphagnum.
Reproduce only by dividing rhizomes, «baby», no more often than every 4 years. In General, reproduction is not desirable – a few plants in one container or 1 lawn look much more spectacular.
Other features of care will be described below, for each type separately.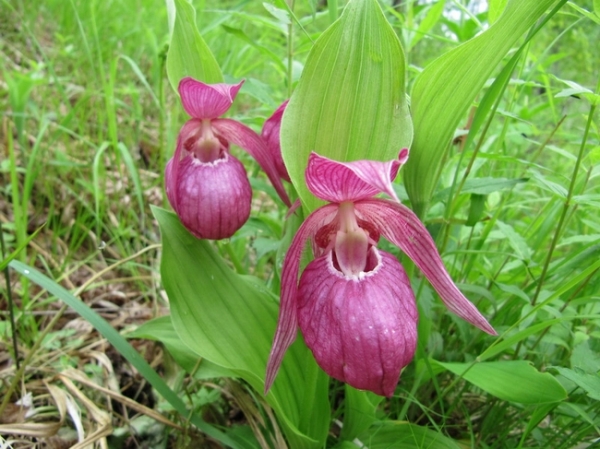 Paphiopedilum
This is the most popular indoor lady's shoes. The genus comprises over 50 species of terrestrial (rainforest, leaf mold),epiphytic (up to 10 pieces, as Phalaenopsis) and lithophytic (rocks, often Cretaceous), and is divided into six subgenera. Often found in nature in South-East Asia. Stems usually long, carries one at a time (sometimes up to 3) large flowers. The lip of all kinds of distinctive use of shapes.
Popular in indoor horticulture:
P. celevrity (P. hirsutissimum ) — terrestrial, lithovit with leaves up to 45х2см. the whole plant except the leaves covered with hairs, everywhere except the front side of the petals, they are Burgundy. Sail rounded, with green edges and black hairs in the center. Bokovs petals elongated, with a heavily corrugated edge, in the middle of the base is covered with black down the sides green, and the tip (about 13) – pink-crimson, sometimes curled back in a spiral. Lip beige or light green to dark spots. Blooms all spring.
P. Spiers (P. Spicerianum) — litoff, undemanding. Leaves with wavy edges. The sail is very original, pinkish-white, green at the base of the two halves, separated by a dark pink stripe, bent back wings and an elongated middle, overhanging the lip as the visor. Lateral petals green, glossy, with a purple tinge and bright stripe down the middle, the edges are very wavy. Lip oblong, brown-purple, glossy, with a green edge. Serdtsevini rounded, rich pink with a white edge. Flowering in November-January.
P. Sukhakulii (P. sukhakulii) — the leaves are oval, with a Trident, marble. The sail was concave round with a long upper tail and green stripes, similar to slice onions. Lateral petals oval, salad in a large maroon spots, which thicken towards the ends. Lip brown, glossy, the bottom is almost white. Blooms in the summer.
P. Pierre (P. fairrieanum) — leaf marble dark green.Sail oval, white to dark red longitudinal stripes, the edges wavy. Lateral petals are light beige in longitudinal purple lines, with a wavy edge. The lip is green with a red hue and dark veins.
P. Harris (P. harrisianum) — the leaves are elongated, with dark green mesh. Sail red, very bright at the base, lightening along the veins to the edges to white. Lateral petals are blood red with yellow tips and wavy edges. The lip is a little lighter side lobes, yellow to the top.
A wonderful p. (P. insigne) — grows on mossy rocks. The sail is curved, round, maroon spots, light green at the base and white toward the top. Light green lateral petals and lip gloss, have maroon veins.
P. pretty (P. Bellatulum) — leaves are green, marble. Peduncle very short. Sail and side lobes round, overlap each other, light orange-yellow cherry point converging to the center. Lip with a straight edge, the same color, but with no ticking.
P. apricot (P. Armeniacum) – marble leaves,peduncle short, flower plain, bright yellow or whitish. Sail rounded,has a pointed tip; lateral petals also round, but about 2 times larger sails, superimposed on it; lip globose or ovoid. The middle, ovate, yellow with maroon dots.
P. calloused (callosum P.) — the leaves are green, marble. Flowers are among the largest in the genus. Sail up to 8 cm wide, slightly concave, with a notch in the middle and slightly wavy edges; the tone is light green, yellowing to edges, edges white, in the middle of a pattern of maroon stripes and dots. Lateral petals are also slightly wavy, separated by a maroon stripe in the 2nd half along: the cherry on the top of the thick veins on a yellow background, which almost reaches the edge, and the lower dark dots on light green background. Lip pale yellow with cherry veins. Blossoms in April — June.
The conditions of detention and care
Lighting paphiopedilum prefer abundant, but diffuse, 12 – 14 hours a day – suited East and West window sills in the winter preferably supplementary lighting.
The temperature mode depends on the type: those with marbled leaves more thermophilic them day temperature +20 to +250C, and at +15 — +180C. Paphiopedilum clean sheets daily, preferably +18 — +230C, and at night – from +100C.
A period of rest for these orchids is not mandatory, fundamental for flowering are only diurnal temperature changes.
Watering even, temperate, warm water. Try not to get water into the rosette of leaves – it can rot.
Every 2 weeks it is advisable to arrange paphiopedilum warm shower, epitiro tropical downpour.
Feeding.
Feeding is carried out not more often than 2 times a month, complex fertilizer for orchids, divorced twice weaker than usual
Transplant these flowers suffer badly, but on average every 2 years it have to salinization of the soil, which orchids do not tolerate.
To use ground pine bark, sphagnum moss, fern roots-osmunda and coal – all the small factions. It is useful to add up to 10g/liter of lime or dolomite, especially for lithophytic species.
In favorable conditions it blooms consistently every year at the same time, depending on the species. Before flowering, there is a young leaf, which not grows to the size of the others, and thickens and forms a Bud. After flowering it is possible to slightly lower the temperature and reduce watering before you start to develop a young green Bud.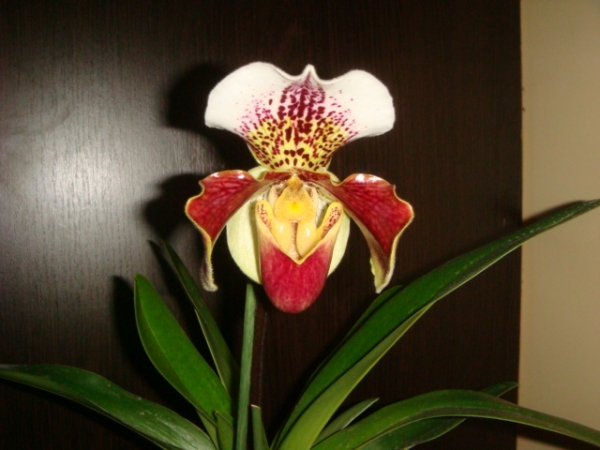 Phragmipedium
This genus in nature grow on the rocks open system, so the lighting he needs the brightest, most direct sunlight and the summer day temperature is around +33 — +350C, and at night +10 — +150C. He also loves abundant watering, the substrate must not dry out, allowed short periods of waterlogging. The rest of the care is the same as for paphiopedilum.
Cypripedium
This genus includes most types of garden shoes. They grow to 25 – 30cm bloom 2 – 3 weeks in mid-may — June, can live in one place for more than 30 years. Based on it displayed the most winter-hardy and «picky» sort – Gisela.
They grow in partial shade, like the same conditions as ferns.
Moderate watering is needed only during dry periods.
Feeding mineral or organic fertilizers only during the flowering period
In the garden soil it is advisable to add brown peat, dolomitowe flour, sand and fine charcoal.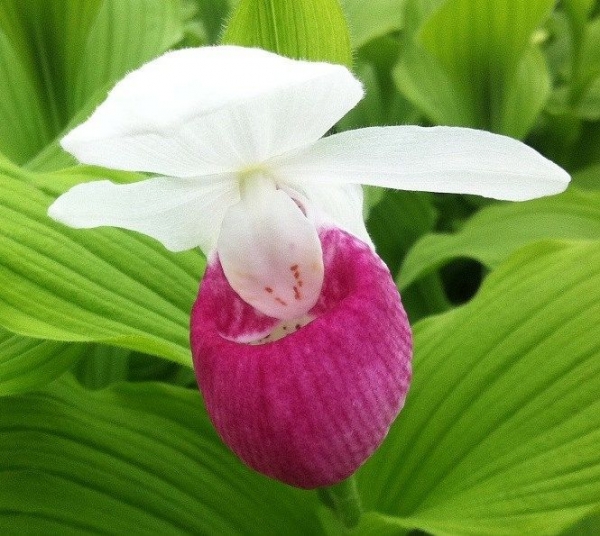 The acquisition and reproduction
If you decided to plant lady's slipper – tobuy a ready plant, or rhizome with 3 to 4 buds. The roots must be many, they must be clean, intact, no rot, and the buds should be quite large. When you click finish, the plants keep in mind that not all types of veneering of the Shoe is able to grow in the open ground (only most of Cypripedium), and the fact that it blooms only on 6th year of life (so a 2 – 3 year old plants are always much cheaper). Recently appeared in the sale of tiny seedlings, grown from meristem – they are very vulnerable and require rearing in inorganic materials, with the gradual addition of peat, 4 to 6 years.
The seeds of this flower of the house is not propagated: they have a low germination rate, germinate for 3 years only in the presence in the soil special an endomycorrhizal fungi, then the seedlings grown in sterile greenhouse, and bloom for 8 – 15 year life.
Reproduction in the home.
Reproduction in the home is possible only rhizome, in August (room – when will the young growth), not more than 1 in 4 years (the Bush grows very slowly). Each part should have should be pseudobulbs and kidney. Plant in late August and September, and planting holes prepared in advance – at least 2 months, so the soil has time to settle. When planting the rhizome is a horizontally spread roots, and buds submerged for no more than 2.5 cm.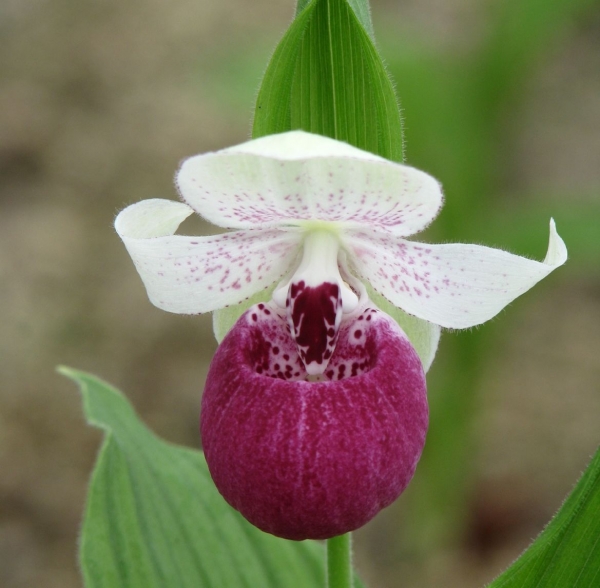 Possible difficulties in growing
Pests of this plant can be affected by scale insects or spider mites. So its require treatment with insecticides or acaricides, respectively.
From excess or a sharp increase in the lighting leaves may burn – dry spots or yellowing.
If the leaves seen soft spots, treat the plant with turnicidae. Rotting leaves can excess moisture
With the defeat of gray mold on the leaves there is a RAID, similar to mold. It is treated too turnicidae.
If the leaves are wrinkled, it means not enough moisture or the roots die. Healthy roots are light brown or brown, with short fibers. Try to reach the root surface – if it is bare filiform core, so the root has died – most likely from waterlogging or drought.
How to take care of Pedilanthus at home

An ode to Lily: Tubular hybrids