The economy of the plantation of raspberries, or the Berry business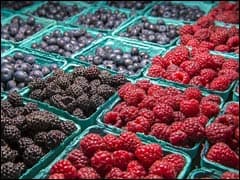 Beginning farmers who wanted to start their own berry business, care about many of the related business issues.
When we were approached by someone who wants to engage in the berry business, he asks a lot of questions: what to plant, how to plant, how to harvest berries, whom to sell? In this article, the nursery «School Garden» will try to answer basic questions that we asked farmers wanting to plant a garden for growing berries — for example, bookmarks, garden raspberry.
Where to start?
As a rule, farmers Express the intention: «I Want to plant a garden of raspberries or a garden of Apple trees». Our counter-question: «How much land you have?»
If a person says that he has 200 acres, we say, «Okay, you can create a garden of Apple trees».
But if the land is only 10 hectares, the garden Apple trees already there doesn't fit. We recommend these people to deal with berries.
Plot of land for growing berries should be as smooth, without sapadin, preferably on high ground. Because if you select a site in the lowland or in the floodplain, there may be recurrent frosts which may suffer the garden, and this will affect the ripening of berries and crops.
The importance and pedigree of the earth. That is, what plants it was growing previously. For example, grown industrial crops, was a meadow or young forest. What's the difference?
To create a garden you can take the field from under the grain, it will be as clean as possible from weeds.
You can create a garden on the site of pastures or meadows, there will need to be a double herbicide treatment, and then the ground is ready for planting.
And the third option is to create the garden the most time consuming is the field that is overgrown with trees. In this case, first we have to uproot the trees. The inevitable extra costs. And a big minus is that when the grubbing of trees are mixed layers of soil, which will impact on the future growth of the garden.
To the selection of a site for a garden, you need to conduct a soil test (find out the acidity of the soil pH and the content of NPK, humus) to understand what have to work.
Great importance is the presence of roads that fit the land, distance to transmission lines and connectivity.
Water garden
Important water source, since in the year of planting raspberries would require 100 cubic meters of water per Hectare once a week (assuming no rain).
Starting from the second year planting, fruit wall garden raspberry becomes wider, and then one Hectare you will need 200 cubic meters of water.
When addressing the issue of water supply of the garden there are two options: nearby the river or lake, or well.
At a relatively low cost wells need to figure out how much she can give water.
After digging wells to preserve water, which may be highly alkaline or may contain a lot of salt (then you have to put an additional station for water treatment that would entail additional costs).
The choice of wells as a source of irrigation would be required to heat water in containers or dig a pond. Therefore, the pond, in our opinion, is a more budget option. For the money, for sold is now an iron container, it is cheaper to hire an excavator and bulldozer, who this week will dig a large pond.
The timing of planting raspberries
Regarding the timing of planting raspberries in spring or fall – we prefer fall planting. Because in the spring after the snow raspberries, planted in autumn, immediately embarks on growth.
In the case of spring planting requires more time on the germination of raspberry shoots.
The spring planting raspberry we recommend you to have in the Arsenal of a barrel on wheels for rapid watering seedlings until the installed irrigation system.
What to plant
Our cattery began his berry project with raspberries. When we got through the first season, we immediately started to give requests for the supply of other berries – come on black currants, gooseberries, strawberries, honeysuckle, blueberry, gooseberry, BlackBerry!
So now you can sell all the berries — the demand for them is huge. Therefore, we collected berry travels long distances. Our berry from the Nizhny Novgorod region through dealers got to Ryazan, Vladimir, Moscow.
For example, other berries: in the Nizhny Novgorod commercial networks can often be found gooseberries, packaged in 100 g, brought from Novgorod region is about 1,100 kilometers from Nizhny Novgorod. However, the demand is there.
Attachments
For planting 1 hectare of garden raspberries «from scratch in an open field», on average, will need 1 million rubles. But this average amount. For example, if you are planning to plant a garden of raspberries of 7 Hectares, you will need at least 7 million. And, of these, 5 million rubles will be required in the first two years – is the starting capital investment
Then you will have annual maintenance costs. This is the cost of electricity, weeding, fertilizing, containers. But this does not mean that if you want to plant a hectare of raspberries, then you will only need one million.
The smaller the area of the garden raspberry you are going to lay, the more you will have the cost of the berries. The proportion of «million of rubles per hectare» is observed approximately from the area of 5 Hectares. If the area is smaller that one hectare may need an attachment 2-2,5 million.
The cost of berries
When we are approached by farmers with the question of the cost of the finished product, we provide our estimates of the costs that we have incurred, when laying your garden of raspberry area of 7 Hectares.
You need to understand that these calculations are averaged. Included in the cost of planting material, irrigation, preparation of soil; the cost of containers, fertilizer, energy costs, weeding; the cost of logistics. But excludes a number of costs that can be individual – is to buy or rent land.
Electricity — is also an individual thing. Can bring electricity at a reduced program and with some of the farmers take exorbitant prices.
The third thing is water. If irrigation of the garden will be from a natural water source, sufficient to supply the pumping station. It remains to extend electricity and irrigation will be started.
If you need to drill wells, the amount of expenses increases.
In General, the cost of 1kg of fresh chilled raspberries is 100-120 rubles when the average market price 250rub/kg. That is, profitability will be at least 100 percent. The project payback period is 3 years.
Funding
Acquaint farmers with the amount of investment required for planting berry bushes, they have a reasonable question arises: where to take money. If no equity, then either it is borrowed money in the Bank or is the money of the Ministry of agriculture grant.
Grants and subsidies for planting berry gardens exist in all regions, but each region has an individual approach. In the Krasnodar territory and Tatarstan Republic, these grants easier to obtain. If you take the Volga region and Central Russia, the novice grower to get such a grant is much more complicated.
There are two kinds of berries farming government support grant (a one-time payment of up to 1.5 million rubles) and subsidies. The grant issued to the existing businesses on the uprooting of old gardens, for orchards and for the care of these gardens.
If we take young farmers, they can focus on the grant allocated by the amount up to RUB 1.5 million But in order to receive a grant, you need to fulfill a number of conditions. Your PSF should be re-organized, the Director must have agricultural education or pass/x course. You have to make and defend your project. For every 500 thousand rubles, which you ask your LPH is obliged to hire one employee, i.e. formally to employ it. And to work he should have at least 5 years.
«Gotcha» such as the initially seems «free» money is in the fact that you are tax deductions for this employee for 5 years will return the full state, these 500 thousand rubles, even if you pay him minimum wage 11-13 thousand.
If you ask for 1.5 million rubles, the official state you must have 3 employees (not counting you). Regardless of how much it will last your smallholders, these employees you must keep in the state for at least 5 years. And even if you will report in a year that you have all the plants devoured by the weevil, or all ruined by drought, you still need to return the money to the state in taxes for those employees who remain on your LE.
Collecting berries
Another question we are asked when planning the garden is the collection of berries. There are two options.
The first option is to pick berries by hand. While manually collecting raspberry average production per man for 8 hours is 35 kg. In many respects this figure depends on the speed of picking berries a particular person. In General, the formulation varies from 20 to 50 kg of berries per shift.
The average price for collection of 1 kg of raspberries is 35rub. This figure also varies — from 50 rubles to 25 rubles/kg depending on the yield and number of berries.
The second option is mechanized picking berries. Existing varieties of currant, raspberry, gooseberry, chokeberry allow you to pick berries to mechanize.
But mechanical harvesting of berries — it's not cheap. While manually collecting raspberries with 7 hectares will be required in year about 1 million rubles is the salary of collectors. For mechanized picking berries will have to buy a trailed harvester, which costs about 7 million rubles, and in the year he will be able to handle only 7 hectares – this is his performance during the season. You can certainly do the technique used, but then there is the risk of its sudden failure.
But here there is an important fact: berry after mechanical harvesting, usually (if we're talking about raspberries), is only for technical needs. That is, mechanically assembled berry is suitable only for processing. What would be dense and strong berry was, after all, vibration and shaking techniques do their work. Berry some wrinkled, some broken, — after operation of the combine harvester send it immediately to fresh market. Well, on the fresh raspberries, it is likely that this method will not work. Mechanized harvesting of raspberries involves the sale of only the berries for processing. It is possible to freeze it, and then something from it to make.
Tara
When working with Resellers berries, you can do some non-standardized containers. A portion of the collected berries can be in one container, and some berries in another container. For example, you can find on the market crates used under the mushrooms or grapes.
But when working with a network user will be a question of standardized packaging approved by the customer.
Storing berries
Another issue is the storage of fresh berries after harvest. According to the technology, every 2 hours collected the berry needs to be put in the refrigerator. And the faster the cooling the berry temperature of +1…+2 degrees, the longer it will continue to be stored.
Some farmers use this trick: put the berry for a while in the freezer with temperature of -18 degrees, to quickly reduce the temperature of the berries, but the berry is there to freeze should not. After rapid cooling the berry stand into the storage chamber.
What's cool berry? Here, too, there are two options. The first option is the construction of a freezer or refrigeration complex. But this is for beginning farmers very few people under force.
A cheaper way is to buy a small camera (there are now teams ready camera with split-systems). But it must still be equipped with diesel generator emergency — in case of disconnection of electricity; this variant will cost 1 million. RUB ie, good camera, good split system and emergency diesel generator, Foundation, shipping, installation.
Another option is the so – called sea containers, which can be purchased in Saint-Petersburg, in Moscow. The price of a 13-metre refrigerated containers is in the range of 350 -700 thousand RUB But you need to understand that the equipment used; it is unclear how many in Moto — hours, and how much he has left to live. To work with such containers, can be very inconvenient because they have no vestibule, one door. In this container, you can save and fresh berries, and frozen.
For example, in the Kirov region actively cultivated black currant and chokeberry. The berry is collected in bags and then frozen in these bags in these containers. At full load of the container it comes with 20 tons of black chokeberry. The equipment is working to the limit, and every 3 hours is the defrosting cycle.
But with all the disadvantages of this method of storing berries, — no stake, no yard — with these containers, you can still use it.
With steel containers you can quickly assemble the working area, the so-called «base» where you can use them, for example: one container of fuel, the second container as an amenities building (storage and inventory), third container for fertilizer in the fourth container — storage of equipment for drip irrigation.
You can use the container as a garage for small equipment (such as tractor or small tractor without cabin). Of course, it will remind the Chinese of Chinatown, but for fast workflow so you can do.
Sales of berries
Sales of berries (wholesale and retail) takes place via two channels.
Dealers wholesale take the berry in packs of 300-500 g for resale in retail. With the dealers is easier to work with: they are buying berries by the total weight (no need to move each jar) and ready to pay cash. But they have no stability in orders. Ie, for example, may make an order for 300 kg of berries, and when the order is already assembled, then abandon it.
Other wholesale customers are chain stores. They also take berries in the filling 300-500 g, but order smaller options packing (e.g., blister tray capacity 125 g).
Enlisting in the berry business, when we started selling berries, we were afraid of chain stores — their onerous contracts, deferred payment, a large package of documents for the berry. But, actually, not so scary: networks work can and should be. Now network stores berry the subject of concessions, because the berries are in short supply, and they are willing to pay the asking a farmer the price. Deferred payment, of course, but it is not global, 2-3 weeks.
The advantages when working with networks is stability. Ie online store makes a specific order in advance, for two weeks. For example, eating 3 deliveries per week 200 kg of berries, for a total of 600 kg in a week.
Some farmers, feeling the strength and ability to independently implement a harvest, organized retail outlets of fresh berries. Beat locations on the streets, put up tents and try to trade.
But, in our view, trading on the street 2-3 bedrooms positions the berries, it is difficult to have a large clientele. Because people on the street bazaars used to buy little bit of everything, but in a large range, and go after work the other way for a glass of raspberry not everyone wants…
Minus this trade: to preserve the quality of berries need to be refrigerated (and, respectively, and electricity, which is not always available). We tried to put refrigerators with raspberries in heavy traffic (in our opinion), but a good result is not seen.
The farmer needs to understand that to grow berries and sell in bulk in one person is hard. And if you sell berries and even retail, that it is almost impossible. You need to accept the markups of middlemen. And if you have more than 1 Ha of garden crops, then sell the berries by the gross.
Logistics
Current issues: how to carry, what to carry berries. In solving logistics problems too, there are two ways. First — purchase of own transport; but in the initial stages of a business is quite expensive investment. Or you buy a Gazelle-the refrigerator (it is placed about a ton of fresh raspberries, is about 1.2 million rubles.), or the so-called Heel-refrigerator on the basis of Largus (worth about 800 thousand rubles.). And if you want to make another version, so you can Heel to put on the field (to connect it to the outlet to serve as a refrigerator), then this version will require an additional 100 thousand.
You can, of course, take both the car used. But this raises the question of risk, because the risk with used transport increase dramatically — if you have it break on shipping with a ton of berries…
You can work in a rented transport. Now have a large selection of freight services is provided. But there is another problem that we faced.
We, the farmers, this scheme is perfect: in the morning and all day (from 8:00 to 18:00 h) is the collection of berries, periodically removing it to the refrigerator. Dial the desired volume (for example, 500 kg), and in the evening by 18:00 hours waiting on a car the Gazelle on the download. Loaded the car driven by berry, for example, in Nizhny Novgorod for 200 kilometres – 3 hours, i.e. at 21:00 h the car is already at the point of discharge. But to unload it will be not earlier than 5:00 o'clock in the morning.
So the car needs to stand from 21:00 PM to 5:00 a.m. with the motor running to operate the refrigerator refrigerator.
When we started looking for a car, we all drivers immediately were told that it will not do. Machines are all old, and not one driver out of ten has given us the nod that he agrees not to turn off the car all night. That is, the machine will not be supported by the temperature regime, which during transportation of the berries must be adhered to +1…+2 degrees. And so we had to ship the machine to 4:00 a.m. to 7:00 a.m. the car was unloaded. This is extremely inconvenient, but this is the situation.
Processing the berries
People who turn to us, the issue of processing of berries is always in the foreground. People are doing it right — think ahead how to double the impact of the berries. But not so simple. Cook of berries jam, jam, or making wine out of it, or dried berries can. Question: will you be able to sell it.
For example, the Russian realities and from the experiences of the farmers, which we know they have a small shop, people make fruit jams and preserves, dried berries for tea. But then you just can't sell, well to sell.
Because it's one thing to go on exhibitions, to exhibit on «Food Expo» and other venues, and conduct one-off transactions. And another thing is to find a distributor, so he represented you, and that your berries were sold on the shelves of any grocery store in Russia.
When chain stores and distributors want a farmer to work — and there is now demand in such farm products, then they need volumes. But large amounts of berries, as a rule, not beginning farmers. Hence, there is a beginning farmer the issue of processing of berries.
Environmental clean berries
Many farmers dream of organic farming, i.e. cultivation of berries without the use of any «chemicals» – no fertilizer or chemical means of protection plants from pests and diseases.
When growing everbearing raspberries you can exclude the treatment of bushes with pesticides and chemicals. Because the resistant varieties everbearing raspberries, which we offer gardeners and farmers «Caramel», «Crimson Ridge», «Pohulianka», «SAMOKHVAL» — can be grown without a single chemical treatment.
If you are considering for the cultivation of other berries (gooseberry, black currant, honeysuckle), then you need to stock up on fungicides because rust, powdery mildew, leaf spot, aphids, mites and other pests and diseases will be on the cultures.
I will add that a raspberry raspberry – hatred. Those who grow remontant raspberry varieties of foreign breeding (e.g., common varieties «Polka», «Polana», forced to use massively fungicides such as Switch, to suppress pathogenic microflora. And the raspberry have to spray 5 times per season. Naturally, this berry will not be environmentally friendly as our varieties.
The issue of cooperation
When we planted your garden of raspberry, I had such thoughts. What if I distribute free saplings of different fruit crops to residents of nearby villages and teach them to grow berries. One village will grow gooseberries, currants and other Berries etc., they will take me to the refrigerator at a predetermined price. And I need the extra berries can't hurt, and people for extra income. Scheme ideas are kind of bad, but there are many «but».
The quality of the berries. On the plantation you are doing everything the science: in time to protect gooseberries and currants from pests and diseases, watering, fertilize, weed. If all of your sub-the farmer will not do the output instead of tons of crop of berries will be miserable pounds small and sour fruit.
The timing and volume of deliveries of the berries. For example, you say that tomorrow night I need 600 kg of black currant. Have yourself a berry plantation you have everything planned in advance, because you can't disrupt the schedule of delivery of the berries. But the sub-farmer, there are many other pressing matters — a cow that needs milking, haymaking. Maybe the person and the work goes on or the bugs on your fries collect. Therefore, the date you passed only 300 kg of berries. As a result of your obligations not fully performed, the terms of the transaction violated, the customer is dissatisfied.
Defectors. After a couple of years on you, sub-farmer will start to look around with the aim: to whom to sell the berry more — not for 65 rubles, as he passes me, and, for example, for 120 rubles, as I sell it. And those same dealers are the berries themselves will take a look of my sub-farmers. And they would be easy to find, just ask in a local shop, the saleswoman.
In the end, I will provide free seedlings and teach at their own expense to local residents to grow berries, and then he will lead into their village buyers berries. And then seller and buyer will agree on a new price of berries that will suit both of them, except me.
Someone advised me to enclose with their farmers, the contract for volume and terms of delivery of the berries. But in Russian reality such a contract is just a piece of paper, because at default of the agreement no you do not have to.
Sofa farmers
Sofa farmers are working people who have saved up free money (for example, 1-5 million). And once they have the idea: why not to invest the money in agriculture? After all, there is a higher return than Bank Deposit of 5 per cent.
And they begin to torment us with questions: like what? We descend from such people from heaven on the Russian land, asked that the model of governance they want, the garden will not work. And they want to find some land, something to plant, to put the trailer, settle in a trailer uncle Vanya and expect a profit. And they shall continue to work in your office, or a Bank.
However, this scheme does not work. Look at the participants of Berries of the Union — 90 percent of farms head is constantly in place, monitors all processes and runs them. Remote maintenance scheme for the berry business is possible, but a larger investment (about 100 million rubles).
So, have no illusions about fairy-tale dividends from its berry fields, if you are going to move from the city to the village.
Our services
Farmers who already had experience with us on the theme of orchards raspberry our varieties have already heard from us that in addition to the cost of seedlings, the buyer must pay royalties. Under the royalty, we understand the right of commercial use of varieties, because we are
Those farmers who sign a contract with us for the purchase of seedlings and to pay royalties, receive support in the form of consultations before and after planting the garden.
What is included in our support. This recommendations for site selection and irrigation systems, at the choice of fertilizers, the selection of equipment where to buy and what to buy, not to overpay. All the secrets of growing plants: how to plant, how to irrigate, when to fertilize.
These farmers after planting for 1-2 years communicating with us, sending pictures. When they have questions, we give the necessary advice and recommendations.
Our varieties of berries
Today we offer to farmers for commercial orchards remontant raspberry varieties to our selection. It is already familiar to many gardeners strain phoenicea raspberry «Jelly» and novelties 2019 — raspberry varieties «SAMOKHVAL», «Crimson Ridge», «Pohulianka».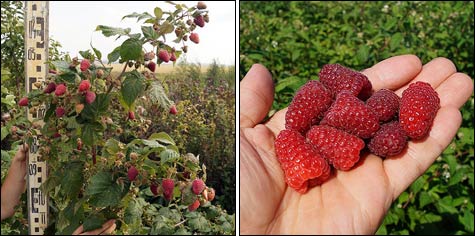 Photo: fruiting raspberry varieties, «SAMOKHVAL»; raspberries variety «Pohulianka»
There are varieties of black currant, varieties of gooseberries. In the fall of 2020, we will have a proposal for Saskatoon seedlings, breeding we are doing in conjunction with the breeder for seed crops Serbinova G. Ya.
Plant gardens need, despite the apparent difficulties. All attachments with proper alignment of their pay with the first commercial harvest. Huge demand for fresh berries and the desire of many people to work on the ground — giving us hope that Russia will cease to fields overgrown forest, and are cultivated and give excellent yields.