Propagation of plants from root cuttings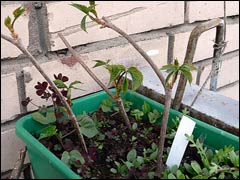 All growers and gardeners passionately dream of acquisition of new species and varieties of your favorite plants. With another garden season assortment of the sold plants is becoming more diverse, and the planting material is more expensive. And every visit of the exhibition-fair of plants is not only a feast for the senses and a shock to our wallets…
Having mastered the simple techniques of propagation of perennials and of woody plants by root cuttings, you can do minimal cost for the purchase of single copies of plants of the best species and varieties. And then immediately lay the new primary multiplication of the purchased plants in your garden.
For those growers and gardeners who have learned to breed plants that it becomes a pleasant and exciting experience. And for those who are only going to understand this science, it is important to understand the main thing. Anytime gardening season from early spring to late autumn – we are able to successfully propagate your favorite plants, using the most optimal methods of producing a variety of seedlings at the lowest cost.
The purchase of plants and their propagation by root cuttings
When you visit nurseries and fair plants, treat the plants sold very critical for their further reproduction.
A large number of species of perennials and woody plants are successfully propagated by root cuttings. Therefore, when buying, try to choose high-quality planting stock with well-developed roots.
Purchased perennials in containers (for example, Japanese anemone, acanthus, mullein (Verbascum), daylilies, Oriental poppy, peony, Pulsatilla (Pulsatilla), forest anemone, Phlox paniculata, eryngium ( eryngium ), primrose, etc.) can serve as a source for obtaining many of the root cuttings with the purpose of reproduction of these plants.
Root cuttings can be propagated and spicy culture with numerous fleshy roots (e.g., mint, lemon balm, horseradish, spiny dogfish, etc.).
Some Alpine species of ornamental plants also can be propagated by root cuttings, rooting them in the fine sand. For example, these include: anchusa soddy, the toothed primrose (Primula of denticulata), auricula (Primula Ushkovo) and other types of plants with rather thick roots.
Can be propagated by way of rooting root cuttings (in containers or directly in the open ground) woody plants — own-rooted (i.e. not grafted) ornamental and fruit shrubs and trees. Example: varietal lilac, celastrus, Actinidia, Japanese quince, barberry, white acacia (Robinia), ornamental species of currant, BlackBerry, raspberry, Saskatoon, filbert, mulberry, aspen is pyramidal and aspens (including white poplar), turn, spirea, wild for Apple rootstocks.
The nuances of the reproduction of plants by root cuttings
Spring and summer is the right time for grafting the thick roots of perennials and woody plants.
If the plants you want to propagate root cuttings are growing in your garden in single copies, we can begin to propagate them from early spring. When the earth thawed, carefully dig the Bush out and cut the desired number of root cuttings.
Under the General rules of technology propagation of plants by root cuttings, different types there are the intricacies of the rooting of root cuttings. Keep in mind these are some features of the rooting of the plants in order not to make mistakes and to get the best results when breeding.
For example, it is known that Pulsatilla (backache, sleep-grass) does not tolerate transplanting because of root damage. But it's still rare in our gardens, is a wonderful plant can be propagated by root cuttings.
Bought in container shrub razvedochnoe cross planted in a bed with a loose substrate (a mixture of garden soil, coarse sand and fine gravel). In this substrate the root system of Pulsatilla will develop freely and quickly. With the growth of the Bush of a strong root system, you can shovel the earth, to separate the thick roots, cut them from cuttings and root them on all the rules.
It often happens that the improvement plan garden design, growing in ordinary garden soil bushes Pulsatilla have to dig and transplant to another location. The remaining hole, the edges of which protrude pruning the roots of the cross, not covered with earth, and watered and covered with glass or transparent plastic. After some time, the roots sprout. Then the cover shoot, telling the seedlings for garden conditions. Later, the fledgling young plants are dug and planted in a permanent place in the garden.
Do not forget to make the planting hole a little fertilizer for better development. For example, I add a pinch of granules AVA for longer and nutrition of seedlings.
Cutting root cuttings
Technology cutting root cuttings involves the selection and use of thick roots, if any, have propagated plants.
It is desirable that the thickness of the root from which will cut the cuttings was not less than the thickness of a pencil. Although, for example, Phlox and primrose roots are much thinner — but this, fortunately, is not an obstacle to their propagation method of rooting of root cuttings.
From the mother plants separated some suitable long roots. Cut of the roots cuttings with a length of 5-10 cm Note that the thinner the root, the longer should be the stalk.
So you do not confuse «top» and «bottom» of the root handle, traditionally do: a straight cut on the top of the handle, and a slanting cut on the lower part of the stalk.
All of the slices and possible injury of the roots will certainly handle to disinfect the activated carbon powder.
Substrate for rooting cuttings of root
For rooting chopped root cuttings are prepared in advance a light neutral mixture of garden soil with sand, peat and perlite.
Can be used for rooting of root cuttings only pure peat, pure sand or perlite. But in the lower part of the container it is better to pour the lightweight soil with garden soil, to root, after rooting new cuttings formed roots suction was able to get enough nutrition for normal development of the young plants.
A mixture of garden soil with peat or sand necessary to refill with pellets or powder of complex fertilizer of prolonged action (using the AVA at the rate of 1-3 g per 1 liter of fertile soils).
Options for planting root cuttings
Cut cuttings before planting can be treated with a growth stimulant (Carnevino, IAA, etc.) to promote the formation of young roots. To do this, before planting the root cuttings need to dip the lower oblique cut to stimulate growth.
Thick root cuttings are planted vertically in pots with a top layer of neutral substrate. When you do this, bury upper cut of the cutting to the level of the substrate, and then lightly sprinkle it on top of clean sand.
Usually planted a few root cuttings of plants of one kind in one big pot. Or you can put one root the cuttings in individual pots.
Delicate root cuttings (Phlox, primroses and other perennials) to plant in bowls, placing them horizontally. The cuttings spread on the aligned substrate at a distance of 2.5 cm from each other and then sprinkle the same substrate a layer of 0.5–1 cm.
Planted cuttings watered with warm water pooled and placed in a suitable place, conducive to their rapid establishment.
The conditions of detention of planted cuttings
Bowls or pots planted with cuttings placed in a warm light place (a windowsill, in a greenhouse).
It is very useful to provide bottom heat for early rooting.
It is important to maintain a uniform temperature of the air in the room with rooting cuttings.
The humidity of the substrate in a container with rooting cuttings also needs to be constant and optimal. The drying or wetting of the substrate is equally detrimental to rooting cuttings, so always follow the substrate. How is this done in practice: enough every day to check fingers in a container of cuttings the condition of the substrate, which should be moderately moist (not wet and not dry).
The rooting of root cuttings and care for them
After some time on the planted root cuttings awaken and start to grow the buds forming shoots.
With favourable weather, the young plants need to take in air for hardening. It is better to do on a cloudy day, as with the hardening of seedlings of flowers and vegetables to avoid sun burns tender leaves.
In Sunny weather you can put bowls and pots with young plants under the dense crown of trees or near shrubs.
You can do this: cover prijenosnog mesh mounted frame, under which place the young plants that they were in a delicate shade. Enough for 3-5 days in such conditions, to hardened seedlings and rooted cuttings to adapt to the conditions of open ground.
Planting the young plants in the garden and care for them
Young plants can be planted for rearing in razvedochnoe bed. But if the seedlings have become strong, it is more appropriate to plant them directly into the flower garden to save them from additional transplant from the beds on a permanent place.
When planting seedlings in the garden to put in the planting hole a pinch of AVA granules of prolonged action, to provide plants with proper nutrition for the next two to three years. The following feeding AVA repeated after the specified period, bringing the granules around the perimeter of the Bush and buried them in the ground 3-7 cm
All the spring garden plants need nitrogen fertilizer to the development of lush green mass, it should not be forgotten.
Nitrogen for plants is made in the form of mineral or organic fertilizers (urea, ammonium nitrate, humus, compost), closing up them into the soil. You can also use complex fertilizer quick actions (for example, Kemira, or Vertica), which just dropped on the surface of moist soil without incorporation, the rate of 80-100 g per 1 sq. m area of the flower bed. It will nourish the developing plants within two weeks.
Learn to propagate a variety of garden plants by rooting of root cuttings, it's easy to get a lot of seedlings of valuable species of perennials and woody plants. This will greatly enrich their garden collection of flowers and fruit plants to decorate a garden and grow your favorite fruits and berries.