Onion planting in spring and caring outdoors
Onions — the basis of many dishes and a cure for many ailments «in one bottle». Many people in our country use it for cooking (soups, main dishes, marinating, salads, etc). He is also a favorite of followers of traditional medicine. This is not surprising because it contains vitamins, trace elements, it strengthens the immune system and helps prevent many diseases. Proper planting sets in the garden is very important to obtain a large and delicious harvest. In this article you will learn about how to plant spring onion to the head in open ground.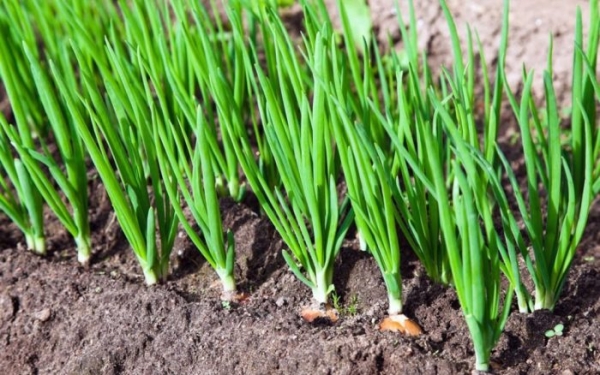 When to plant sets in spring in open ground?
There is no exact date or time for planting onions. It all depends on the climate in your area. Year by year, planting time also varies, because the weather is always different.
Planting is carried out when the earth warmed to a temperature of +12 degrees at a depth of 10-12 cm and disappear the risk of return of frost. If planted in a cold ground increases the risk of strelkovanie bow. If you put onions can't wait, first planted bulbs of smaller size, they are less streltsa, and then more.
What types of onions can be planted onion?
Today the onion is cultivated in many varieties of onions, which differ in taste and organoleptic qualities, sizes, duration of the vegetation period.
Taste properties there are three varieties:
Acute grade. Eaten fresh, used for preserving and cooking. Due to the content phytoncids they are very fragrant and have good storability. There are many types of Ostraya Luka, which is diluted by the sets (Arzamas local, Pogarsky, Rostov, Stuttgarter risen).
The Peninsula grade. Very fruitful. Often used in canned and processed form. The sets are bred Danilovskiy, Vyshensky, Kaba, Myachkovsky, Store.
The sweet varieties. Stored a long time, famous for the abundant harvest. They are bred for eating fresh. The onion grow well Globo, the Black Prince, Retro and others.
The main stages of planting small bulb in the open ground
Landing sevka in the soil consists of several important stages. Before planting it is necessary to perform the following procedures:
Calibration. For sevka usually choose bulbs size from one to three centimeters in diameter. Of this material will be a good big onion «presentation».
Analysis on grades. Most experienced gardeners for planting in the winter use a «local» varieties. Some onion planting sets is not recommended, such as shallot — in the spring it will put the arrows.
The warming of the bulbs. This procedure may consist of 2 or more parts: a dry heating with warm air, in warm and cold water. Read more methods of heating are described below.
Antifungal treatment. Using salt, potassium permanganate, tar.
Reheating gives lower strelkovanie further accelerated the emergence of seedlings.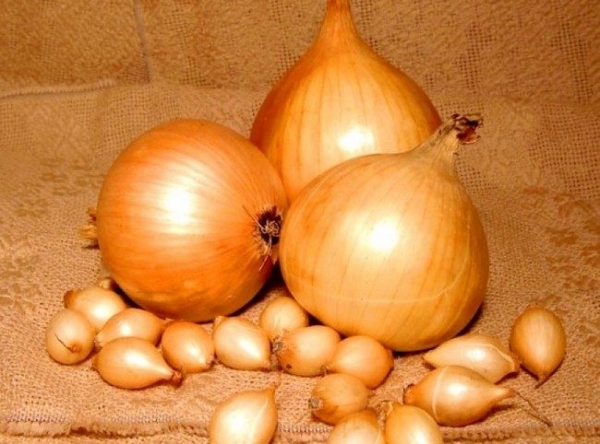 Site selection and planting onions in the spring
Onion loves bright light and outdoor breezes, smooth stretches. In the shadow of the onion can continue to grow greens, but the turnip does not form.
Close bedding of groundwater for vegetable unacceptable. In areas prone to flooding and with close occurrence of underground rivers, arrange raised beds with drainage layer not less than 20 cm.
Onions need loose, fertile soil with a high sand content. Suitable loam and fertile sandy loam, with slightly acidic or neutral reaction. If the soil at the site is clay or peat, the acidity reduced with liming, dolomite in quantity 250-400 g per 1 sq. m.
A bed intended for a bow, dug with a bayonet spade, choosing the weeds. For every square meter of make:
humus (compost or rotted manure) 5-7 kg per 1 sq m;
wood ash 1 Cup;
complex mineral fertilizer or superphosphate, 20 g of potassium sulphate 15 g.
The surface ridge is spread with a rake, making a rim around the perimeter to keep the water when watering is not leaking out on the track. The recommended width of beds 90-120 cm, the length is arbitrary. Onion planting in spring.
Put the sets you need in moist soil down crown, a little bit of pressure, like fixing. Top must be covered with earth (3 cm) and a little seal.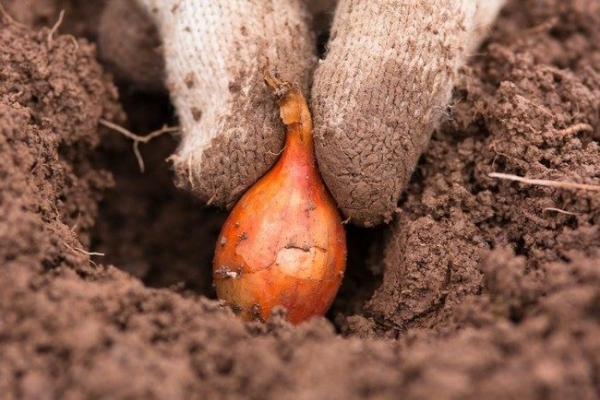 Care of onion in the open ground
To grow onions in open ground is possible only with regular timely maintenance. Watering, after which the soil is necessary to loosen and remove weeds from the site. In addition, onion will need feeding, and when infected by pests or diseases need to treat it with insecticides or fungicides.
On average, for care, the onions need watering once a week the rate of 5-10 litres of water per square meter. If the summer is dry, you will have to water the vegetable almost every day.
If the day rains, from the waterlogged bow may begin to rot. Therefore, it is necessary to watch that the onions do not suffer from excess water and does not dry up.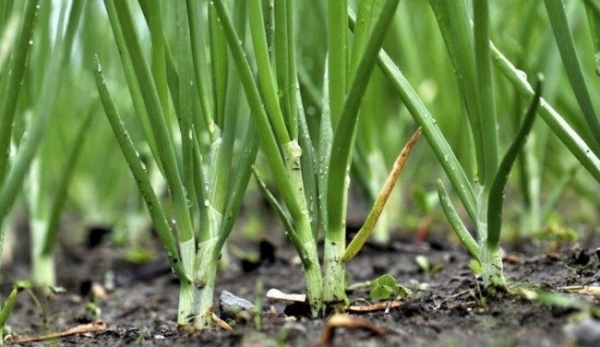 The feathers of the lack of moisture becomes bluish-white and when it is abundant, pale. In July, when the time comes for maturation of follicles, watering should be reduced, if the summer is not too dry.
Many gardeners recommend you have one or even two feedings per season. However, the need for them in the fertile soil, tucked in the autumn with organic matter, no. On poor soils the first feeding of liquid organic fertilizers (horse manure, bird droppings, mullein) is carried out about a month after planting. The second feeding is carried out during the formation of the turnips, using phosphorus-potassium fertilizer. So to avoid burn roots, dressing is carried out after moistening the soil before watering.
To protect onions from fungal diseases.
To protect onions from fungal diseases in horticultural practice used as preventive it leaves a copper sulfate solution (teaspoon per 10 liters of water). Hold her when plumes reached a height of 15 centimeters. The addition of a solution of a tablespoon of grated soap warn rapid runoff of the liquid from the leaves.
Of insect pests the greatest danger to the onion represent the mole cricket, the fly, sprout, vegetable, winter wheat and cabbage moths, tobacco thrips, onion moth, fly. Onion planting in spring.
To care for caterpillars of noctuids effectively treating the plants with a solution Gemelina a concentration of 0.5% or Bitoksibatsillin concentration of 1%. To get rid of tobacco thrips, will help treatment of 0.15% strength solution of Malathion or Actellic. Against harm flies effective systemic insecticides.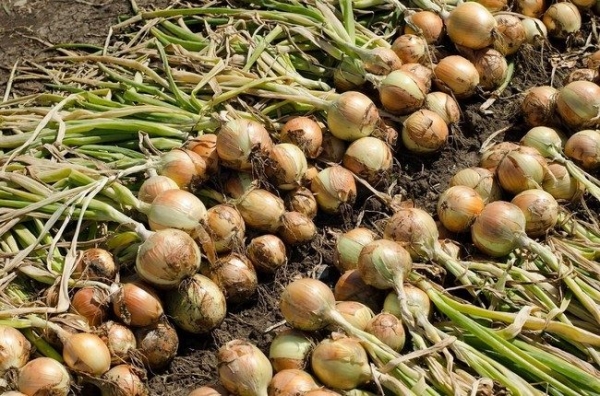 To summarize:
The right choice sets determines whether onions grow in the climatic conditions of your area. How much you will be burdened with caring for them? What the crop will receive and what you will use vegetable, can store it in the winter. Choose sets carefully. Consult with the sellers until not understand that specific sets will suit you in all respects. Wish them abundant harvests!
Proper planting of cedar seedlings in the garden