Japanese, Savoy, Brussels sprouts and Kale
Cabbage is one of the oldest vegetable crops, with preventive and curative properties against many diseases. Pythagoras himself was engaged in breeding of cabbage and appreciated its ability to heal wounds, ulcers, improve digestion. In our days there are hundreds of cultivars of this crop. Cabbage is cultivated as an annual plant in all countries with a temperate climate. Cabbage is a popular vegetable plants intended for human consumption. Ornamental varieties of cabbage have been used successfully in landscape design. Varieties of cabbage are many. Offer you to get acquainted with some of them.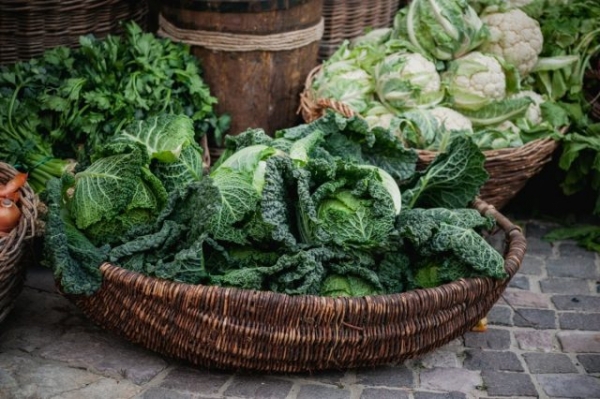 Broccoli
Broccoli comes from the ancestors, bred by Italian growers in the province of Calabria. The subtropical origin of broccoli resulted in further widespread mainly in areas with a mild climate. Broccoli is most consumed in the developed countries where the population is concerned about their health. Leaders in consumption are: UK (5 kg per person per year), the United States and Canada (3.5 kg per person per year). Today, the consumption of broccoli is increasing worldwide, including in Russia.
For values of the chemical composition of broccoli is in the leading place not only among all types of cabbages, but among all vegetable crops. The vegetable is rich in protein (5.9 per cent), and the content of most essential amino acids is not inferior to the protein of beef, by the presence of lysine, isoleucine and tryptophan — egg white protein. It is recommended to lure the kids and food for elderly and handicapped people. This is particularly relevant cabbage in dietary nutrition for those suffering from gout and gallstones.
The value of broccoli increased due to the presence of methionine and choline. These substances prevent the accumulation of cholesterol in the body and prevent the development of atherosclerosis, being thus a reliable means against premature ageing. Eating broccoli promotes removal from the body salts of heavy metals and degradation products. Broccoli is also rich in biological form of iodine.
Middle-grade cabbage broccoli Fortuna via Matures 80-85 days. The head is round-flat, gray-green, medium density, texture delicate. Weight 300-400 g. Differs friendly maturation and the capacity of the education side of the head after cutting the Central head. Can withstand freezing down to -70°C. seeds Can be sown directly into the ground since the beginning of may.
Brussels sprouts
In Brussels sprouts contains a number of useful substances to the body. The complex biochemical composition of cabbage puts it in a number of essential food and makes a valuable drug.
The variety Brussels sprouts «Sapphire» characterized by high yield, ripens through 145-160 days. Head rounded, medium density, weight 8-14 g, 2-4 cm in diameter, the Number kochanchikov reaches to 30 pieces on one plant. Total weight to 500 g. the Heads have excellent flavor and dietary qualities. In this cabbage contains three times more vitamins than green cabbage. The harvest when the heads become quite dense and closed. Recommended for various side dishes, salads, eating fresh, soups and for canning.
Cabbage, red,
Red cabbage is not so common as cabbage. But the one who grows, knows its healing properties. In red cabbage contains large amounts of potassium, magnesium, iron, enzymes, volatile production, vitamins C, B1, B2, B5, B6, B9, PP, H, provitamin A and carotene, which is 4 times more than green cabbage. It contained anthocyanin has a positive effect on the human body, improves elasticity of capillaries and regulates their permeability.
Red cabbage is recommended to include in the diet of people suffering from hypertension as it helps lower blood pressure. Its therapeutic properties also used for the prevention of vascular diseases. The juice of red cabbage used in the same cases as the juice is white, but has more pronounced properties by reducing vascular permeability due to the large number of bioflavonoids. This cabbage juice is recommended for people with increased capillary fragility and bleeding.
Middle-grade krasnokochannoy cabbage «Victory» has excellent shelf life, delicious taste and superior cabbage. Kochan rounded-flat, deep purple, the cut – purple, medium-bodied. The weighing 1.3-2 kg.
Savoy cabbages
In Savoy cabbage and lots of vitamins (A, C, PP, E, D, b group), macro — and microelements, amino acids and other nutrients. They help our immune system and nervous system. Also a part of this cabbage is ascorbigen, which is prevention of cancer.
Savoy cabbage has low calories, only 28 Kcal per 100 g. the figure is useful that the composition of Savoy cabbage has fiber, which cleanses the body, normalizes metabolism.
The Savoy cabbage variety «Uralochka» has a cabbage of excellent quality, which Mature in 125 to 130 days. The heads are rounded, in the context of yellowish. Weight 1-2,2 kg. Taste qualities are good. The variety is resistant to cracking.
The subtleties of cooking Savoy cabbage:
During heat treatment the cooking time reduce for 7-10 minutes, compared to the cabbage as Savoy softer and has no rough veins;
to emphasize the taste of the dish, put additional spices like oregano, marjoram, Basil, ginger, anise, add balsamic vinegar;
Savoy cabbage is very good to absorb oil, so be careful with the dosage in fresh salads;
the leaves do not turn into porridge during the fighting, spray them with vinegar;
before frying the vegetable, it is recommended to blanch it for a few minutes.
Cauliflower
Cauliflower — a low-calorie vegetable that's present in many diets: 100 g of cabbage account for only 29 Calories. More than half of nitrogenous substances in this vegetable presents easily digestible proteins. Cauliflower contains a lot of mineral salts potassium, iron, phosphorus, vitamins and enzymes required by the human. Vegetable tidy hormones, relieving the body from swelling. Contained in the vegetable iodine has a preventive effect on the endocrine system, forms the psycho-emotional background, struggling with chronic fatigue.
Cauliflower vegetable is hypoallergenic and is used as a feeding babies. It is often give children under the age of years. Vitamin balanced formula promotes proper bone development of the baby. Cauliflower is also useful for pregnant women.
To consume this vegetable should also men. Potassium contained in cauliflower (210 mg/100 g) prevent deviations in the heart muscle and eliminate the clogging of blood vessels. According to some, to exclude prostate disease, the man need to eat 150 g of cauliflower daily (risk of neoplasms may be reduced 2-3 times). «Beer» belly men also can be removed, if in the daily diet include cauliflower — 100g in the evening (18-19 hours).
Grade cauliflower «françoise» Matures in 90-100 days. Head rounded, white, weight 0.4-1 kg. Recommended for fresh consumption and all kinds of processing. Behind him on a 110-120 day variety Matures «Parisienne», which has a large dense head of up to 2 kg. Head white, round-flat, partially covered, whitish, thick. The variety is characterized by cold resistance, suitable for summer-autumn cultivation. Recommended for fresh consumption and processing.
Cabbage Japanese
As you can guess from the title Japanese cabbage, this kind of came to us from Japan, but some sources call the homeland and China. In North America it was called «Salad Japanese green» and «Green mustard». The plant is rich in beta-carotene, which is very good for people with eyesight problems. Japanese cabbage is good for the skin, promotes its elasticity and softness, prevents the appearance of pimples. Powerful antioxidants neutralize the harmful effects of free radicals, enhance immunity and strengthen the natural defenses of the body against environmental factors.
In the leaves is present phosphorus, potassium, calcium and iron. This low-calorie product, besides having high nutritional properties. Because of this, Japanese cabbage is appreciated in dietetics and is a member of various diet programs. Its use helps to strengthen the walls of blood vessels and prevents the formation in them of cholesterol. The plant must have for the prevention of thrombosis and atherosclerosis.
Variety of Japanese cabbage «emerald pattern» is characterized by high yield, unpretentiousness to growing. Ready for harvest in 60-65 days. Rosette of leaves with a height of 33-35 cm and a diameter of 50-55 cm Sheet of medium size, dark green, lyrate-pinnate, dissected. Weight of plants in 0.5-0.6 kg. the Taste is pleasant, with an Apple tinge. The leaves are used fresh as a salad, and heat-treating (they are added to soups, stews, marinades). The variety is resistant to strelkovanie, it grows well after cutting. For early crops of the Japanese cabbage sown seedlings in March, planting in the ground in may.
How should be dried removed onions and garlic
Dutch cabbage: planting, care, types