Gelenium perennial — planting and care.
In the second half of summer to autumn gelenium lights in the garden bright bouquets as fires. Flowering gelenium attracts attention from afar. Inflorescence with velvet knobs in the center, surrounded by a halo of petals have bright color in the yellow-orange-red-brown tones. These fiery colors give the plant a "burning" appearance, and because the inflorescences bloom at the tips straight, tall shoots, it looks blooming gelenium, as burning fire.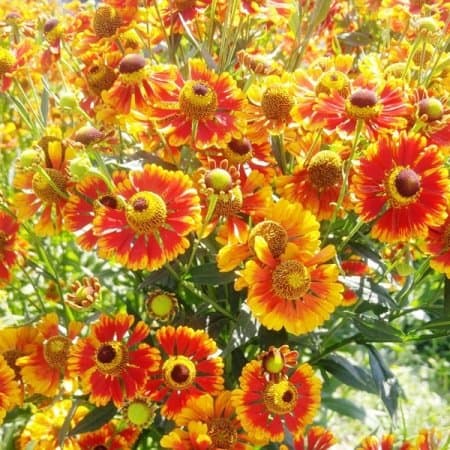 Companions for gelenium not mandatory, this flower perfectly solo in the garden, but if you want to have a mixborders or mixed flower garden with gelenium, then combine it with other similar flowers – rudbeckia, heliopsis, coreopsis, annual and perennial ornamental sunflowers, asters. Also gelenium won't get lost next to the majestic Cannes and the sparkling Salvia.
Gelenium (Helenium) is a genus of plants comprising about 40 species and belongs to the family of slozhnotsvetovye. The most common view – gelenium autumn (Helenium autumnale). Now often sold hybrid varieties of gelenium under the title gelenium hybrid.
Gelenium autumn is a tall plant with stems up to two meters. The stems of gelenium erect, robust, branched at the top, they form a columnar Bush. Gelenium inflorescence often colored with stains, tints and touches of yellow, red, orange, brown.
Modern varieties of gelenium have strong straight stems and reach a height of 70 cm. Untidy bottom part of the hive gelenium, you should close lower flowers in the foreground. Selenium can not tie up, shoots resistant and can withstand wind and bad weather.
Blooms gelenium long usually from late July until autumn. Even the faded blossoms remain decorative, closer to the fall colors gelenium change its color to a brick or brown color.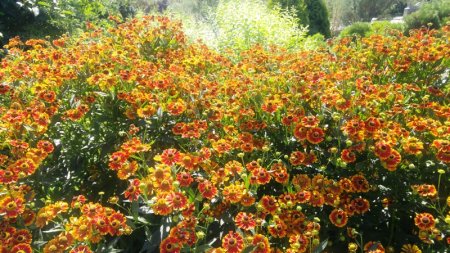 Gelenium can be attributed to the perennial flowers, but this plant requires transplanting and updates every three years. The best time to transplant the old Bush – early spring when the first shoots appear. When transplanting in the fall is poorly rooted plants can freeze solid in the winter.
A place to put gelenium in the garden need to choose a sun with fertile soil. Flower care is weeding, watering and fertilizing complex fertilizer in the spring and set buds. In the late autumn shoots gelenium cut at a height of 5-10 cm and a Bush covered with dry leaves or mulch humus.
Gelenium can be grown from seeds, but if cross-pollination new plants may not be similar to the mother.