Dried flowers for winter bouquets (ammobium, helipterum)
Dried flowers for winter bouquets (ammobium, helipterum)To the dried flowers include true annuals and perennials, cultivated in our climate as annuals. Plants are sown in spring in the ground or pre-grown seedlings (depending on the duration of vegetation period). They bloomed profusely, regular feeding of complex mineral fertilizers and fertile soil.Most species are drought-tolerant and does not tolerate waterlogging and shading. Some very heat-loving and die even with the weak frosts (celosia), others bloom until late autumn, despite the cold (Helichrysum).To get quality material for bouquets, it is important to cut stems with buds, and properly drying. The flower stalks are tied in small bundles (15-25 pieces), removing the leaves and hanging heads down in a dry, well-ventilated area. Here is the description of agricultural techniques and the most common dried flowers.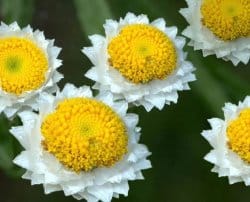 Ammobium, the Asteraceae family. In a culture known large-flowered garden form of the winged ammobium. Perennial native to Australia, are grown as annuals. Light-requiring, drought-and cold-resistant plant height of 50-80cm. Inflorescences small, with a diameter of 2-3 cm, on a single shoot 3-5 pieces, the decorative effect they give filmy white scales, wrappers and yellow tubular flowers.Ammonium spring seeds planted in the ground (when ready the soil) or in the second half of March in the greenhouse on seedlings. Seedlings emerge on 5 — 6th day. Flowering starts in 2 months after sowing and continues until frost.For dry bouquets blossoms are cut in pilorospazme when tubular flowers are not visible yet. Seeds ripen in 2-2,5 months after the beginning of flowering. They are collected as Browning of buds. In 1 g contains about 2.4 thousand seeds.Helipterum, acroclinium, the Asteraceae family. In common culture G. pink, helipterum of Mangla and helipterum Sanford. The most famous helipterum pink, native to Australia.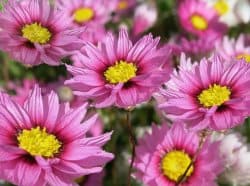 Light-requiring, cold-resistant, relatively drought-resistant annual with a height of 30-50 cm Slender stems emerging from a rosette of leaves, over a single baskets with a diameter of 2.5-5 cm, Scarious bracts white, light or bright pink, tubular flowers are yellow or almost black. Sow seeds immediately in the ground or in the greenhouse in April. Seedlings emerge on 5-6th day. Seedlings planted in may (the distance between plants 20-25 cm). Helipterum blooms in late June — early July. The shoots are cut in dry weather when the buds are just starting to turn. Seeds Mature in 30-40 days after flowering, collect them when the baskets will hang. In 1 g contains about 400 seeds.Less common helipterum of Mengla, also hails from Australia. Low plant (20-30 cm) persistent, grayish-green branching stems. Small inflorescences 2-2. 5 cm in diameter, white, pale or bright pink, the outside covered with silvery scales. Also grown as helipterum pink. Procure the material better than whole branches, because the stems are very thin and short. Inflorescence of G. Mangla — an indispensable material for small, delicate bouquets. Seeds ripen in late July — August. In 1 g contains about 800 seeds.For cut flowers are grown and helipterum Sanford. Plant height 30-40 cm Thin, strongly pubescent stems ending golosovanie inflorescences, consisting of small bright yellow flower heads. Grown in the same way as the above species. In 1 g contains about 2.5 million seeds.