Diseases of Phalaenopsis orchids
When caring for orchids is easy to make a mistake as this flower in need of constant care, it is easier to avoid problems, do everything in a timely manner, in diseases – orchids restored long enough. With what problems face most often? – Diseases can occur, even it seemed, from the simplistic – wrong lighting. For growing any flower, you need to adhere to proper light conditions, light regime should be moderate, in time to be protected from direct sunlight, to avoid burns, which special are not dangerous, but traces remain long enough. In any case, not to engage in spraying the orchids in the sun, because the leaves formed a point of burn. By the way, incorrect watering, too, causes a trouble, the main rule – it is better to water less than to overdo it, especially it has a negative impact on young shoots, oversupply and stagnant water causes suppuration. Necessary to maintain the moisture, if it is not to worry and just water the plant, then the result will be – fallen leaves. Poor irrigation also leads to the falling leaves, they dry in very hot weather – use the fan to get fresh air. The important point to remember is that the flower is not long and continuously be in the water, and if this is combined with low temperature, it will appear to swell. In winter, watering is reduced. You need to avoid getting water on the leaves, this will provide the salvation from rotting and pitting edema. In the cold winter, at low temperatures the leaves are not only covered with white spots, but sometimes obnarujivaetsya (the frostbitten area in need of amputation), in the same period, it is necessary to abandon spraying, it will provoke the appearance of darkened spots of fungal.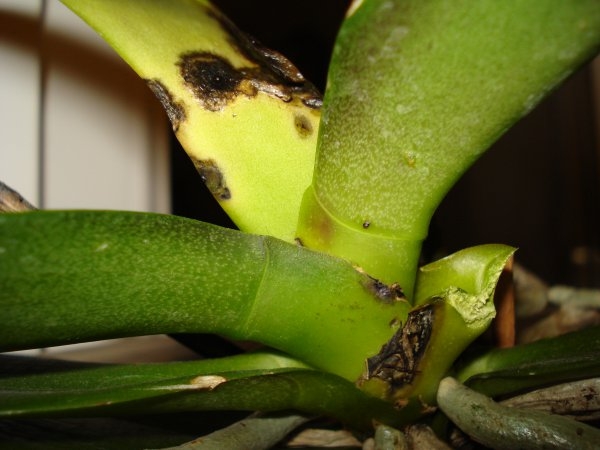 Group of diseases:
Viral
Such diseases orchids can be seen infrequently, due to the fact that the cultivation of these flowers are very sensitive to detect such viruses is possible only in special circumstances — or rather, the laboratories and if they are found, all infected parts are immediately to be destroyed. At home very often groundless panic and take the usual waterlogging during viral diseases, however, with proper care, is extremely unlikely. An important fact is that viruses cannot be cured, but the flower does not die, if you provide proper conditions, the Phalaenopsis will get healthy and will live to please their flowering for a long period of time.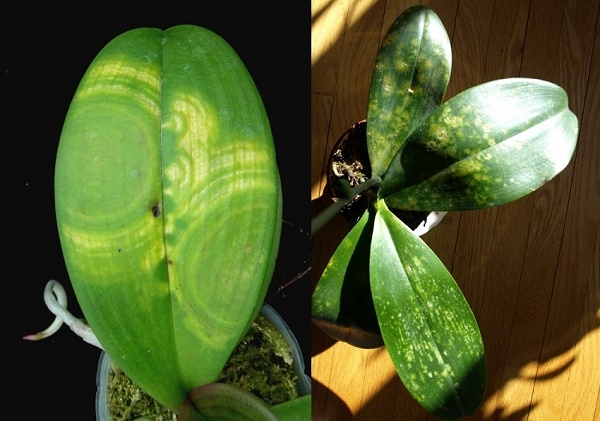 Viral
Fungal
A group of diseases that are the most common and sometimes even lead to death of the plant. The fungus usually develops because of poor ventilation, overheating or waterlogged, and he is developing at a rapid pace. In turn, to fungal diseases include root rot (the most banal and common), though suffering the entire plant, but undergoes suppuration root only, all other affected parts – shrivel up, and sometimes crack or change color. To fungus include tracheomycosis, this group of diseases distinguished by the fact that destroys the Orchid poisoning her from the inside, through the vascular system, thereby taking all the life force and saturating with toxins. This group brings extraordinary danger due to the fact that identifying the disease early, hard, and running as a treatment makes sense, and the healing process extremely difficult to control. The main signs of tracheomycosis: lower leaves begin to fade (possibly with one hand), begin to acquire a yellowish tint, starts suppuration of the stem, collar and roots, and gradually, the roots cease to grow. Diseases of Phalaenopsis
If all of these symptoms at the same time, the disease to identify, suspend, much easier but sometimes they become visible at advanced stages, when the flower is in need of urgent rehabilitation, diligent treatment. Causes of spotting just a lot, for example: common or downy mildew, rust, rot, Anthracnose, Septoria spot, stanhopeas, phyllosticta, Cercospora. If any of these diseases, you need to know that any fungus treated with chemical or biological systemic fungicide kills (which penetrates deep into the vascular system and is applied not to ordinary prevention, and as a direct iskoreniti fungus).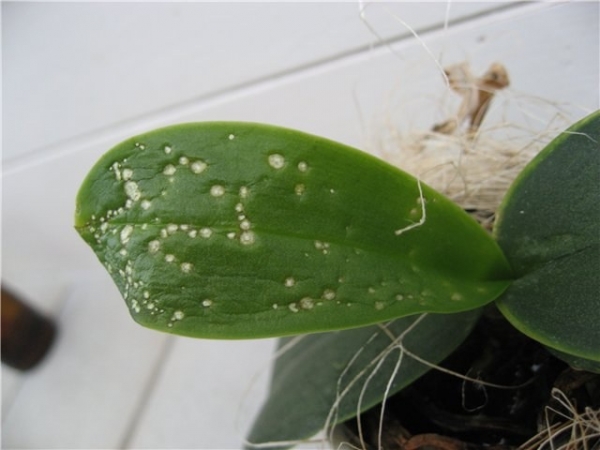 Fungal
Bacterial
To meet such defeats can rarely, cause their origin is the depletion of plants and penetration of bacteria through the tissue of the damaged walls. Bacterial diseases include root rot that progresses rapidly, infects and gradually destroys the entire flower first, die the roots and later shoots them just ten days for complete darkening and drying characteristic of sludge formation – specific, terrible smell, the sheets may be formed of spotting. Spots are black and brown color, surrounded by an oily halo, their number is growing at breakneck speed. For the treatment there are no special medicines are often used tetracycline. Bacteriosis heavily treated, it is difficult to talk about some comforting guarantees for sure. Sometimes, it is difficult to distinguish fungal from bacterial pathogen, therefore, in such cases, immediately begin to use synthetic antibiotics, fungicide.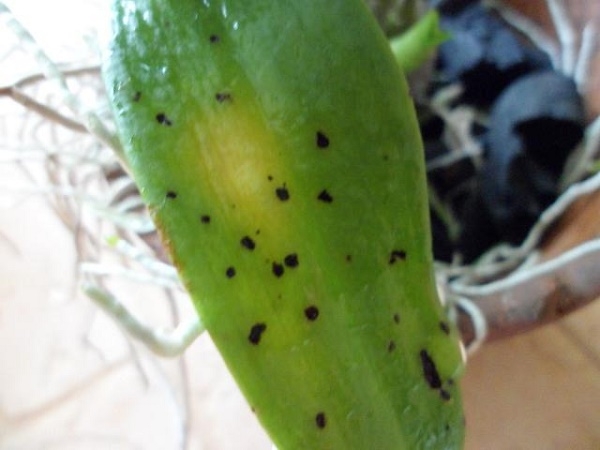 Bacterial
Basic rules for care
It is necessary to take into account the fact that the main, the surest way to protect Phalaenopsis from diseases, and after serious treatment procedures is the maximum listening to all the important rules regarding the cultivation, if there are any mistakes, the blunders, the Orchid is weakened and thus attracts various kinds of infections. Basic tips that will help to warn, suspend, infection, disease: strictly adhere to optimal conditions, to study the history of a flower, it needs a new Orchid should always be in strict quarantine (from two weeks to a month), to be able to study all the details, adaptation of the flower, possibilities to insure against other (possibly infected with something) plants. When there is a suspicion about the disease – just to keep in dry conditions without using any supplements and stimulants. Even pests can be a bad substrate or poor quality transplants, improper watering, if water is not suitable, the same applies to fertilizers, they should be used in moderation. Orchids can not tolerate drafts and dampness, mold, excessively cold air, undesirable nearby store vegetables or fruits, because their contamination is not always determined immediately, but bacteria act immediately. Diseases of Phalaenopsis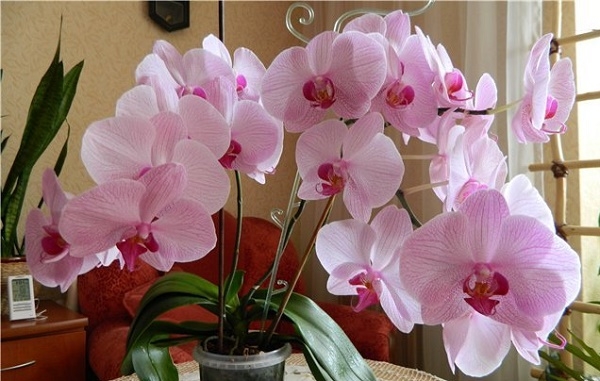 What are the problems of flowering?
Orchids are grown because of the lovely, long, lush flowering, but what if not everything goes according to plan? When the pretty flowers are thinning, become sluggish, and even fall off, the cause is likely to have stuffiness, poor lighting, dry air, drafts, low temperature or sudden changes of temperatures. The appearance of dark spots or points can contact poor ventilation, low temperature, formation of decay. If flowering absent — disrupted temperature conditions.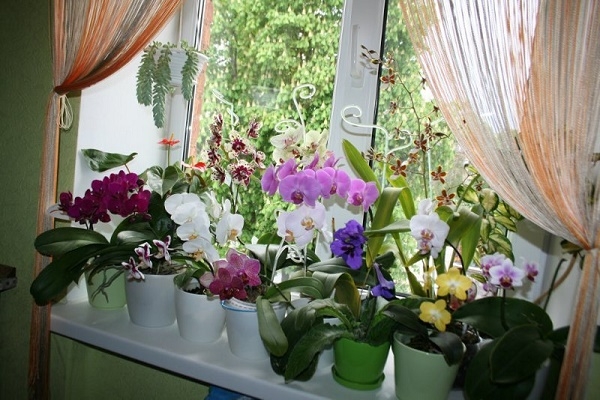 The main diseases of leaves, stems
Green patina appears due to the formation of algae and excessively high moisture, the disease is most common among conservatories, winter gardens, greenhouses. To cure the orchids need to get rid of plaque with the help of a gauze fabric, which should be lightly moistened with water, the house is a great way is to use potassium permanganate or ordinary household soap. Diseases of Phalaenopsis
Cracks appear as a result of unsafe travel to another place or transplant.
Yellowing, wilting of leaves (apical) is due to the scab – an overabundance of moisture, irrigation, and most importantly – low temperature environment. When the Fusarium wilt by the way would be to reduce irrigation, pruning of affected parts with sterile instruments, and after – processing «Fundazol».
Removal of bacterial rot (sunken dark spots) is the destruction of leaves to complete without the diseased tissues is well sterilized instrument treatment fungicides.
Bacterial spot, namely, the formation of brown spots (with yellow/white rim) on the leaves of Phalaenopsis treated by isolation, removal of infected parts, cut activated carbon, sulfur, wood ashes (any antibacterial drug, in the treatment process is necessary to comply with restrained contact with water.
Viruses rarely attack, but they are most dangerous, especially if a lot of colors, because they are distributed with lightning speed, so if the leaves appear dark touches, which flow smoothly into strips, the urgent need to destroy the flower.
From sunburn to protect yourself easily will suffice: to be protected from direct sunlight during hot seasons, do not spray under direct sun rays. Wilted leaves directly related to the condition of the root system, it indicates its suppuration, if the time to inspect the roots, remove damaged, to treat medication against fungus condition normalizerbase and the flower will return to the exuberant flowering.
When the leaves are uneven, ugly with bad colour, then it is time to address the issue of mineral nutrition (float complex fertilizers). In case of damage or kinking of the air roots dry out, so it was not necessary to trim wretched particle and treating it with activated carbon. Diseases of Phalaenopsis
When the roots shrivel up for no apparent reason, it is obvious that the issue is in a weak watering and humidity, respectively – is required to increase the number of irrigations, use a humidifier. As well, if not watering, the roots can be drying and shrinking while in the substrate, in this case, the capacity of the plant should be placed half an hour in warm water, so the healthy roots from saturated with moisture and acquire a nice green color. However, the glaze need to plan and clearly understand that excess water will lead to rotting of the root system, initially, the roots will be spotted, in time you'll begin to frown, becomes softened, brown. The right decision to save the Phalaenopsis is: moderate watering, timely transplantation, treatment.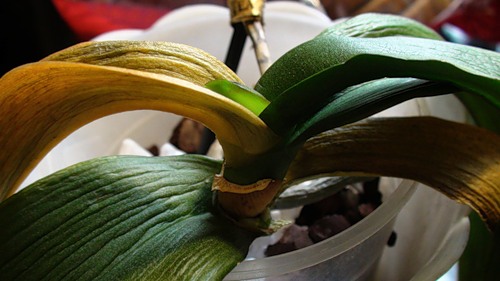 Pests and methods of their destruction
Aphids — a common insect threat this little pest of his column-settlements, similar in form to the drop, the colors of aphids: green, yellow, black.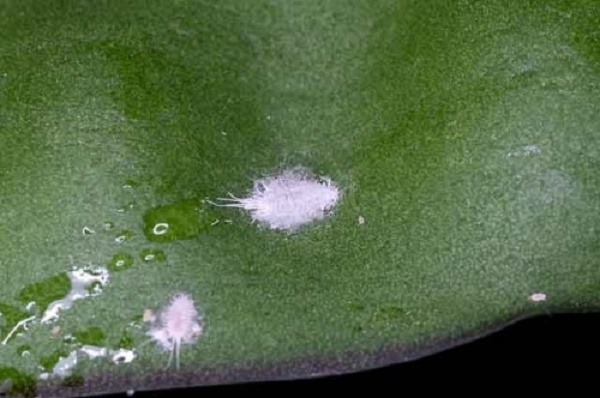 Aphids
Thrips – tiny, oblong flies with wings, spreading, white or transparent larvae, they spoil the young and the vulnerable particles of orchids, a flower covered with spots, stripes, bugristoye, and after that fall off. The situation has two choices: apply spraying insecticides or a few times a week to use soap (this will help to eliminate larvae).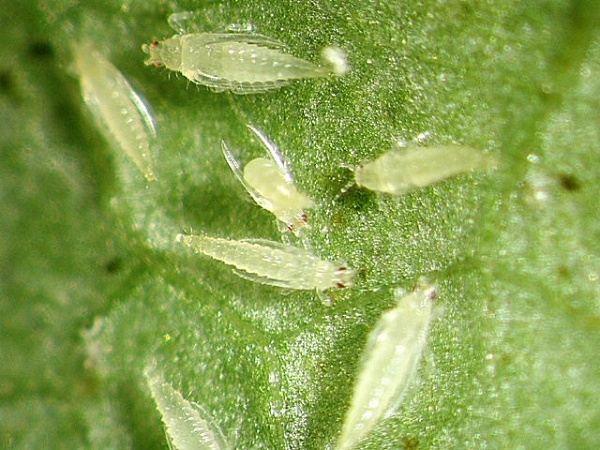 Thrips
Mealy worm is an insect which looks like cotton pieces, settles on the leaves and sucks the SAP, they become yellowish and sluggish. Will help treatment of alcohol, alcohol and «Acharei», a purification procedure you need to hold a couple of times in the past two weeks.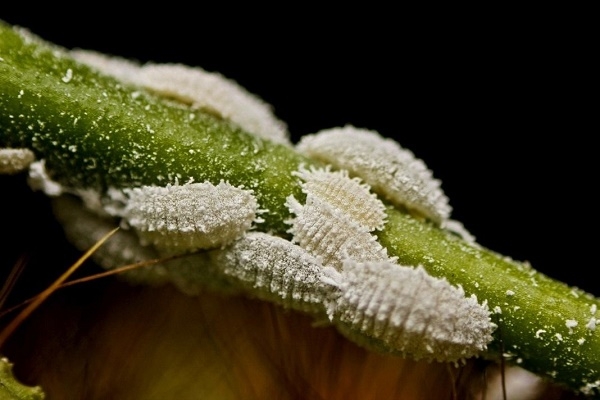 Mealy worm
Slugs, snails are due to poor substrate, originally they devour the roots get to the leaves, shoots, flowers, poking holes in the soil, because these parasites often have to destroy the whole plant.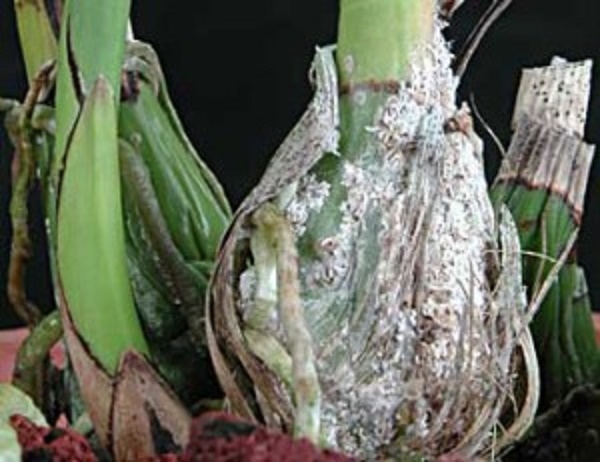 Slugs, snails
Scale insects, coccidae – are eliminated quickly, this kind of growths, which are characterized by tackiness, processed, vodka, alcohol, soap and water, if available, to increase the humidity.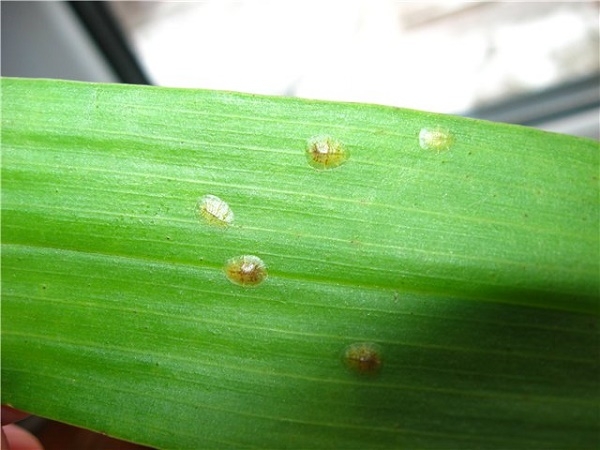 Diseases of Phalaenopsis
Spider mite has a red color appears when the humidity is low, moving slowly, through the fault of this pest is formed plaque and leaves die. In the fight will help water treatment and acaricides to avoid ticks, you need to protect the Orchid from the slightest winds, draughts, spray with lukewarm water, new plants keep a period in a quarantine mode.
How to plant dill seeds and seedlings in the open ground, planting dates