An ode to Lily: ot-hybrids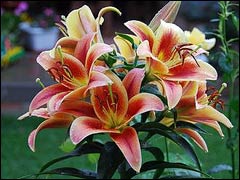 In a huge range of groups of hybrid lilies a prominent place today began to take FROM the hybrids. This elegant beautiful lilies with their powerful high stems no wonder people gave an appropriate name – «Lily tree».
Lily of the groups of hybrids are famous and a huge variety of colors its large, stunningly beautiful, elegant flowers.
Of course, these majestic Lily with huge elegant flowers — not trees. But every joke has some truth. Some varieties of lilies that are specific to hybrids, the height of the flowering stems is comparable with elegant decorative tree taller than a man. Such spectacular plants to become «business card» and a notable centre of your flower beds unique.
Another nice feature FROM the wonderful hybrids: they get sick less often than other Lily groups.
Breeding of lilies groups of hybrids
Ot-hybrid lilies were obtained by crossing plants of two groups: Oriental lilies (Orientale) and tubular lilies.
Class I, attributed to hybrids of lilies — «Black Beauty», which was launched in the US in 1957. This magic Lily grows up to a height of 2 metres; on one powerful stem, it holds a large quantity of large diameter greater than 20 cm, fragrant flowers.
Since then, breeders have brought many fantastic varieties, belonging to the group of hybrid lilies. Every year this range updated with new beautiful varieties, which dream of gardeners from many countries.
Now Russian gardeners have a wonderful opportunity to purchase bulbs FROM hybrids and enjoy the beauty of these wonderful lilies!
It turned out that in contrast to his rather whimsical «parents» — Oriental hybrids and Tubular hybrids of lilies — the varieties FROM hybrids is much more resistant to the vagaries of our difficult Russian weather.
What are the features and advantages FROM hybrids of lilies like to grow in your garden these amazing «Lily trees»? Let's deal.
Some varieties of lilies from our collection FROM hybrids
Our collection of hybrid lilies include many beautiful varieties with various color charming flowers. They grow well and bloom profusely in our garden, every year becoming higher and more beautiful.
For example, shown on the title photo to this article Lily varieties «Montego Bay» (Montego Bay) flowers very large, stunningly bright flowers, shining like small suns. The petals of orange flower with contrasting yellow-gold center and edge of the petals is pale edges.
The flowers of this delicate but stately lilies with strong shoots exude an incredibly sweet flavor. Flowering is very long. Stem height is about 120 cm, and every year the growing plants are becoming higher and higher.

In the photo, blooming Lily varieties «Purpl Prince» (Purple Prince), and grade «Honeymoon» (Honeymoon)
The sort of «Purpl Prince» (Prince Purple) — stunning large-flowered Lily with huge flowers (diameter 30 cm). Its petals are deep purple in color, with strong luster. In the center of the throat of the flower is a contrasting «star». The height of the stems of such beauty reaches a half meters! Winter hardiness and resistance to disease high.
Other spectacular representative FROM hybrids- the Lily of the varieties of the «Honeymoon» has sturdy stems, covered with abundance of large buds. The size of the flowers of this Lily is also amazing – they reach 25 cm in diameter. And the height of this powerful Lily of dostigaev 180 cm!
The smell of her delicate flowers, very nice, with an interesting woody tones, reminiscent of the flavor of Magnolia flower.
Soft and delicate shade of yellow in the center of the flower gradually fills to the edges of the petals. Very elegant Lily!
One florist compared this exquisite Lily with the moon-faced Princess, quite an appropriate comparison! This Regal Lily is one of the most important people in our flower garden.
We were able not only to grow from purchased bulbs are wonderful plants, but is easily duplicated these and other varieties FROM hybrids. Follicles and themselves share, and build up a lot of kids.
Tips on planting bulbs and growing FROM-hybrids
To replant the bulbs FROM the garden-hybrids flowered well, not ill and were growing rapidly, from year to year becoming higher and increasing the number of flowers on the stem, you need to follow some rules.
Select for planting bulbs-hybrids open, Sunny area of your garden.
The soil should be friable, well drained and fertile. Suitable for these lilies are the soil reaction is from neutral to slightly acidic. In the preparation of land before planting the bulbs a good idea to add in a bed of river sand and pine litter.
Bulbs FROM of hybrid Lily plant to a depth of 15-20 cm at a distance of 20 cm from each other.
Adult l okolicy FROM-hybrids reach with your true power only on 3-4th year after planting. So , gardeners need to be patient, that s after a long thoughtful care planted the plants, then have the opportunity to annually enjoy tsya full beauty «Lily trees» high stalks covered with enormous bright flowers.
Pour FROM hybrids should moderate. After flowering lilies glaze needs to stop at all. Plants will be sufficient rain.
Early spring treat plants against diseases. You can take advantage of proven old method: in a bucket of water — tablespoon of iodine.
Order the bulbs FROM-hybrids have grown large, and the plants become «Lily trees», of course they need regular feeding. Just outside the garden season should be carried out 3-4 fertilizing lilies .
First, in the spring lilies feeding complete mineral fertilizer.
Before flowering during budding are feeding lilies fertilizers with a high proportion of nitrogen and potassium. And after flowering — potassium and phosphorus fertilizers.
In the middle zone FROM hybrids great winter with little shelter. Fall planting of lilies we mulching (peat, coconut, other materials). If you have the spruce branches, then cover the planting lilies for the winter spruce branches.
If loaded long autumn rains, we close the flower bed with lilies film to avoid excessive soaking of the soil.
In favorable conditions and with proper care variety FROM hybrids of lilies are quite fast growing. Over time follicles form in the soil the entire nest. Therefore, these overgrown lilies need to be divided and to separate not less than 3-4 years, so the bulbs do not interfere with each other.
Performing these simple techniques to care for roses, modern varieties FROM hybrids should be able to successfully grow any, even novice gardeners.
Take a look at these amazing flowers lilies! If you wish, and care, FROM hybrids easily become smart decoration to your garden, and will also be a chic cutting in your bouquets!