aloe plant care
Content :
Lighting
Temperature
Watering
Humidity
Fertilizers
Diseases
Transfer
Reproduction
Aloe is the most famous type of succulent. It is also one of our popular indoor flowers. Aloe even at home can grow into large bushes. It retains moisture well, so it does not need to be watered often. Adapts to lighting. Aloe extract has excellent medicinal properties, it is used in cosmetics for the face and hair. Aloe vera moisturizes the skin well. Plus, its benefits in folk treatment — aloe juice with honey effectively treats a cold. Aloe rarely blooms.
To find out all the benefits of aloe, you should plant it on your window. But first you need to clarify all the conditions for the content of aloe.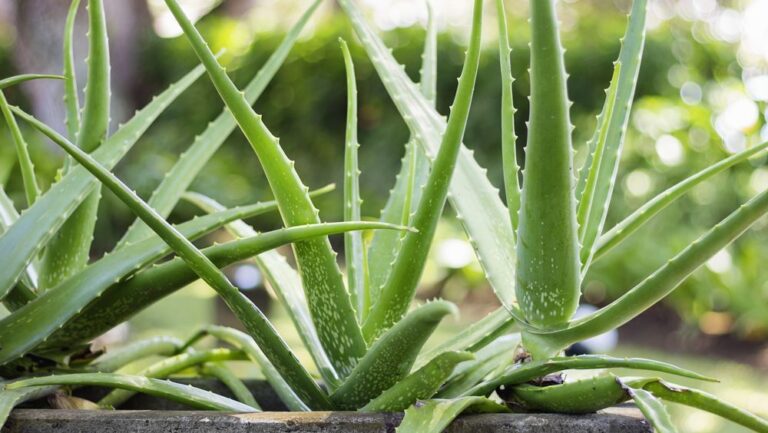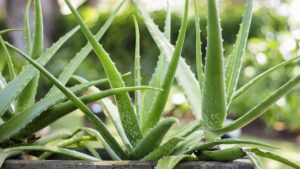 Photo 1. Aloe Vera
Lighting
The aloe plant is by nature demanding of an abundance of light. Even the direct midday sun will not be able to harm him. On cloudy days, aloe is recommended to be illuminated with a simple lamp.
Although, based on personal experience (many of our grandmothers grew aloe in large ceramic pots), aloe may well take root in partial shade, making do with a minimum of natural light. The main thing is to observe the behavior of this succulent.
Temperature
Ordinary room conditions will be a good location for aloe. In winter, the temperature can drop below 14 degrees, because. the plant begins its dormant period. Again, recalling a grandmother in the village, someone noticed that since October, aloe has been put up on a cold veranda.
In the warm season, a pot with an indoor flower needs fresh air, for which it is advised to take it outside more often. But categorically avoid contact with rain.
Watering
Aloe is watered abundantly, but rarely. In spring and summer, watering can take place every week or 1 time in 2 weeks. From autumn to winter, inclusive, watering is greatly reduced — the plant is watered once a month or two. In any case, it is necessary to moisten the soil only after the top layer has completely dried. Aloe leaves are very juicy, so in order for the plant to dry out, you will have to deprive it of water for several months. But due to the stagnation of excess moisture in the soil, rot throughout the plant will spread quickly.
For irrigation, water is boiled or settled. The presence of chlorine in tap water will harm the root system.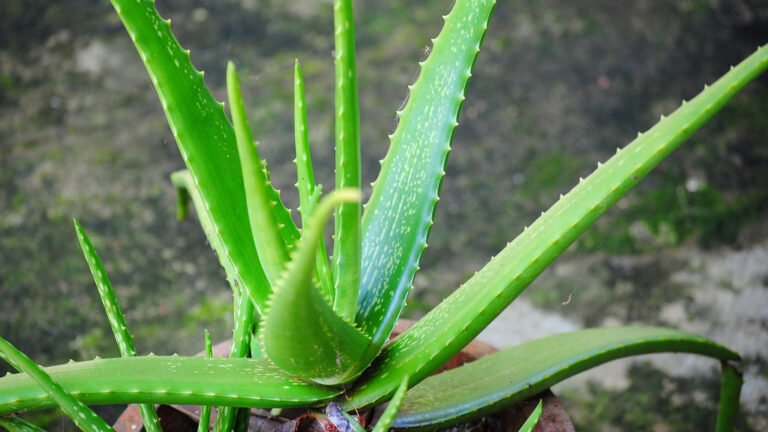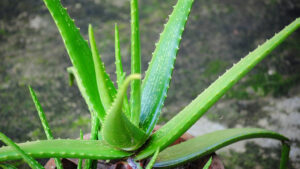 Photo 2. Young aloe
Humidity
You don't have to worry about the extra hydration of aloe at all. The plant is drought tolerant. And any moisture that has settled on the leaves can cause rotting. Therefore, when watering a flower, you should be careful.
Fertilizers
To strengthen the leaves and to avoid diseases of aloe, it is advisable to lure once a month from April to October. A small amount of any mineral fertilizer for indoor plants will do. The presence of phosphorus and potassium will be a big plus, but nitrogen is not welcome. Apply after watering — so useful additives will dissolve better in the ground.
Diseases
Homemade aloe with proper care is not susceptible to disease. However, some conditions can be ignored:
Aloe leaves are pale and sluggish

 . This suggests that someone overdid it — flooded the soil or introduced too much complementary food.

Aloe leaves are elongated

 . Thus, the plant reaches for the light, it lacks lighting.

Aloe leaves turn yellow

 . Apparently, the earth in a pot has not been watered for a long time.

Aloe leaves rot

 . The soil, most likely, was simply poured. It is worth trying to transplant aloe into a new soil, cutting off all the damage from the foliage and roots. Or, until the plant has completely died, you can cut off a fresh leaf blade and start growing aloe again (see 

Propagation

 section below).

Aloe leaves have dark spots

 . The bush freezes or stood for some time in a destructive draft.
Transfer
As a rule, aloe for a lifetime (and it grows for a long time) is transplanted only 2-3 times — and then when the plant is still growing and requires an increase in the area in the pot. Aloe is transplanted along with an old clod of earth to a rhizome, i.e. by the transshipment method, the right amount of fresh soil mixture is added on top.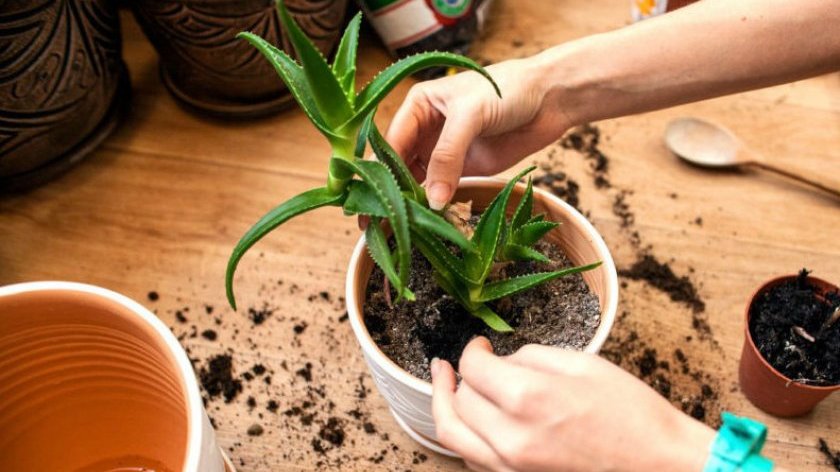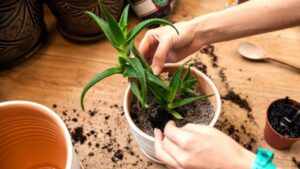 Photo 3. Aloe transplant
The land for aloe is used loose. In stores, you can buy a special mixture for succulents. It is also possible to cook at home: for this, deciduous and soddy soils and river sand are mixed (proportions 1:2:1). Before planting, all components must be pierced in the oven, otherwise there is a risk of pests that will destroy the plant.
The pot for aloe is usually taken deep — so tall stems do not «drop» the container. In the material, attention should be paid to ceramics.
It is recommended to cover the bottom of the pot with a small layer of drainage. Expanded clay or broken brick is suitable.
Transplantation should take place in the warm season, but not in autumn or winter — at the moment when aloe is in the so-called hibernation.
Reproduction
Aloe can be propagated even by someone who does not understand houseplants at all. There is an elementary way to do this:
A leaf is cut from the parent bush as close to the stem as possible with a sharp knife.

Dried for an hour or two, cut leaves are planted in a small pot with soil from one part of soddy soil, half of a leafy earth and one part of river sand. All ingredients must be thoroughly pierced in the oven before use, i.e. get rid of germs and insects.

The pot is placed in a warm, bright place and gently moisten the soil without falling on the leaf.

As soon as the leaf has started to grow, it means that it has taken root and can be planted in an adult substrate.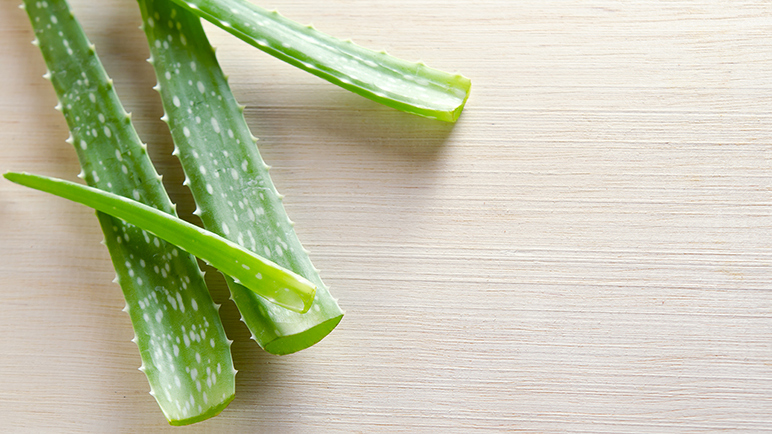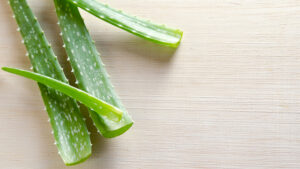 Photo 4. Cut aloe leaves for propagation
The most famous and beneficial type of aloe is aloe vera.