9 plants, which will decorate your garden in winter!
The main «winter» plant a variety of coniferous trees and shrubs. Additional also attach decorative twisted stems and colourful bark of some hardwoods. But probably the most expressive look on the naked trees among the sleeping garden brightly colored fruit. Such plants also become tasty treats for the birds will attract birds to your garden. What trees and shrubs can save fruit for the winter, will tell in this article. Lets decorate your garden in winter!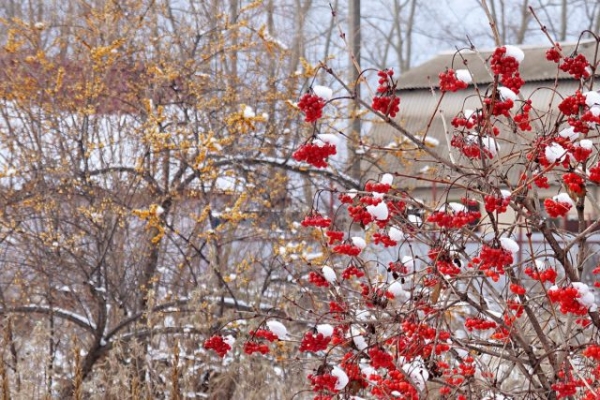 1. Rowan
The usual tree, familiar to all from childhood — the mountain ash (Sorbus) is widely used in city landscaping, and many may seem trivial. However, there are a huge number of species and varieties of mountain ash, which not only features a variety of colors of berries and sweet taste (gladkoplodnye varieties). Garden Rowan also happens to be dwarf or weeping. And some species of mountain ash have unusual foliage – tracery more delicate or, on the contrary, whole leaf blades.
Among fruit and ornamental varieties can be distinguished Rowan «Titania», «Pomegranate» and «Dessert» with a very rich dark red fruits, sweet taste. Rowan «burka», also related to gladkoplodnye varieties, is distinguished by a dark purple (almost black) berries. And the most unusual of Rowan — trees, whose fruits are painted in snow-white color. These include Rowan Ken and Kashmir.
Rowan berries provide a valuable dish for the birds. Due to the increased demand of birds, some trees may be naked already by January, so hurry up to enjoy this magical feast for the eyes in the first half of winter. This beautiful berries are perfect to decorate your garden in winter!
The size of the adult plant: 1.5 to 12 meters, depending on the species and variety.
Exposition: sun, partial shade light.
Colouring: red, orange, yellow, pink, Burgundy, dark purple, white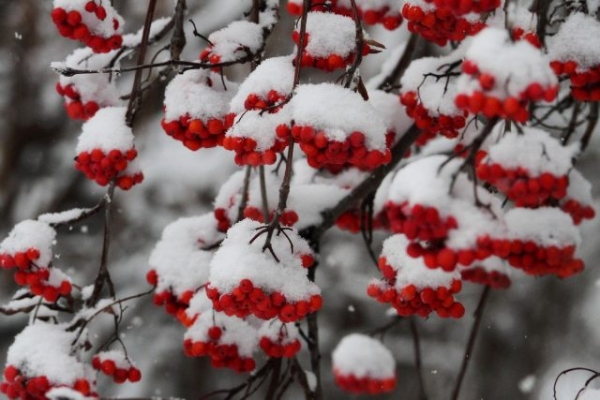 2. Decorative Apple tree
In the spring we admire the decorative Apple trees studded with pink, red or white flowers. In the summer they can please the reddish foliage. And with the onset of autumn decorative tree decorated with beads of tiny apples. Fruit size decorative Apple trees an average of 2.5 inches, and the long stalks them from afar can be mistaken for unusual cherries.
By the way, taste the fruits of most of the ornamental Apple trees are quite bitter and need the alternation of frosts and thaws, before they become suitable for drinking birds. To apples birds turn to the last resort, when other fruits in the garden disappear.
There are many different species and varieties of ornamental Apple trees, they differ not only in color and form of flower, habit and foliage, but also the duration of preservation of the fruit on the branches. Because some varieties of apples fall off soon after ripening, before you choose the grade, better to learn about the terms of the preservation of the fruit on the branches. In particular, for varieties that retain fruit into the winter are: 'Butterball', 'John Downie', 'Harvest Gold', 'Wintergold' , and some others.
The size of adult plants: from 2.5 meters to 10 meters and above, depending on the variety.
Exposure: full sun.
Colouring: red, orange, yellow.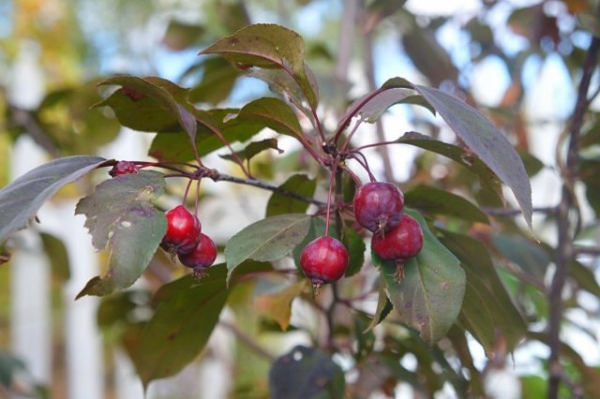 3. Sea buckthorn
Sea buckthorn (Hippophae) — colorful fruit shrub with narrow silver leaves and orange berries which remain on branches throughout the winter. It is a very resistant and hardy plant, tolerant of infertile soil and close to the groundwater levels. Sea buckthorn — a valuable fruit culture. Its fruits contain vitamins a, C, b, E, K and P, and is also rich in other important for human health substances.
When planting sea buckthorn, it is important to note that pollination needs male and female plant. Sea buckthorn often gives growth, but it is well shorn. The plant can be shaped rounded Bush, which, thanks to the soft silvery foliage will look very decorative. Birds readily eat the berries of sea-buckthorn in the winter, and most of all in the fruits their interested in is the seeds and the juicy pulp they leave untouched.
The size of the adult plant: from 1 meter to 6 meters.
Exposure: full sun.
Colouring: various shades of orange.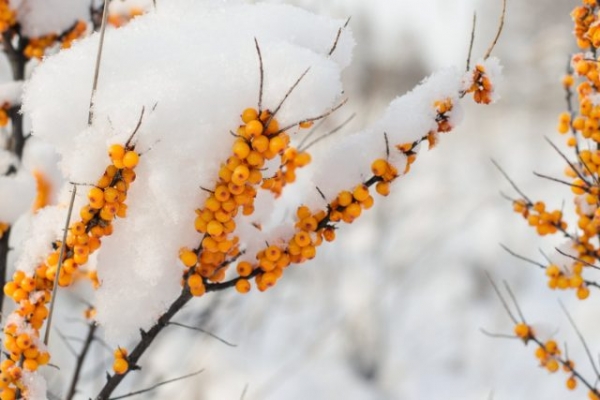 4. Briar
This famous storehouse of vitamin C in the early summer garden is decorated with large fragrant flowers. In modern varieties of rose hips (Rosa) meet the gorgeous gustomahrovye flowers. Which can be easily confused with the rose. But if the roses until spring it is necessary to forget, then the hips will decorate the landscape and in the winter time.
Terry briers represented by such popular varieties as «Agnes» (bright yellow flowers), «Muscosa» (pink), «Conrad Ferdinand Meyer» (white) and others.
A separate line of wild roses was bred in order to obtain as large and sweet fruits, and of certain varieties, they can reach a weight of 9 grams. To fruit trees and wild roses are: «Oval», «Titan», «Anniversary» and others. The fruits of large-fruited dog-roses not only brewed as a tea, but also prepare them in a variety of specialities jam, compote, jelly and jams. Very exotic looks , the hips caucasi, whose fruits are almost black.
The size of the adult plant: often only 1.5-3 meters.
Exposure: full sun.
Colouring: orange, red, dark purple.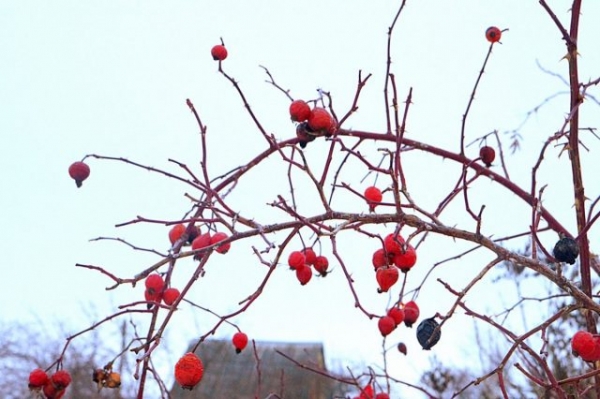 5. Kalina common
In the summer of viburnum ordinary (Viburnum opulus) is decorated with a lace cap white flower clusters that look spectacular against dark-green foliage klenopodobnaya. Autumn elegant multicolor foliage of viburnum is a fantastic spectacle. But particularly noteworthy are the colorful berries of viburnum ordinary.
Bright red blossoms decorated with white caps of snow in the winter time, pleasing to the eye almost more Christmas light. And especially interesting to observe the snowball tree bullfinches or noisy flocks of crested waxwings. Some varieties of viburnum are different Golden-yellow translucent berries, for example, «Xanthocarpum».
Viburnum berries are well preserved until about the middle of the winter, before being completely eaten by the birds. Viburnum grows well in moist soils, tolerates water-logged and stagnant water.
The size of the adult plant: tree or shrub 1.5 to 4 meters.
Exposition: sun, partial shade light.
Colouring: red, yellow.
6. Hawthorn
Hawthorn (Crataegus) has many types. Most often in landscaping in the middle lane you can find such varieties as: hawthorn blood-red, ordinary, point, semi, canadian and others. Depending on the species and varieties of hawthorn berries vary from small to relatively large, and, in addition to the traditional red, can be painted in other colours.
Typically, the hawthorn bears fruit abundantly, making the trees seem very elegant, decorated like a garland. Hawthorn berries attract many birds, but most often they can see thrush.
Often sales are incredibly beautiful varieties of hawthorn with double flowers of pink shades, for example, Paul Scarlett. However, from the point of view winter decoration such varieties are of no value, since the sterile and the fruit is not tying.
Large-fruited varieties of hawthorn with very tasty large fruits that are often grown in orchards, is also not too suitable for the decoration of the winter garden. They almost completely fall off once ripe.
The size of the adult plant: depending on the species, a shrub 2.5-3 m tall or tree to 12 metres, easily shorn.
Exposure: full sun.
Colouring: red, yellow, orange, brownish, almost black.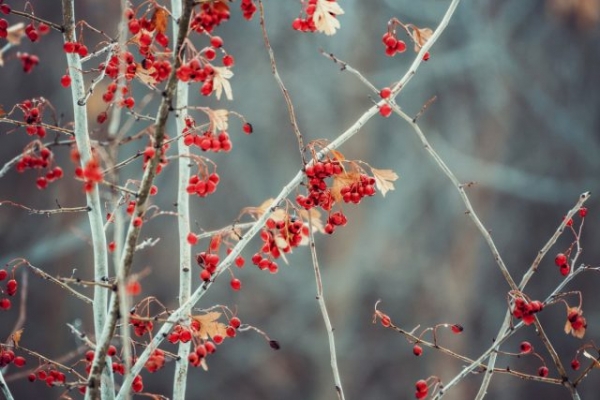 7. Deren
Dogwood (Cornus) — a popular garden shrub. Which is highly valued by the bright foliage of different colors. Some varieties adorn the gardens in the winter is very vivid coloration of young shoots (bright crimson, orange and yellow). In culture there are several types of Derain. The most common of them — Darren white, natural forms of which also grow in the middle lane in the wild.
In winter, the shrub is decorated with bright white berries with a slight bluish tint. In the fall these white fruits are incredibly spectacular against the bright red foliage. When the leaves fall, they also persist on the shrub and serve as the main decoration. Best to decorate your garden in winter!
These fruits are just love birds, but for humans, the berries of this dogwood is very unpleasant taste and are moderately toxic. Another kind Derain – blood-red — resin is distinguished by a dark purple (almost black) berries. These fruits are also edible, but attractive to birds.
The size of adult plants: 1,5-3 meter, tolerates shearing.
Exposure: partial shade.
Colouring: white, dark purple, in some species of red.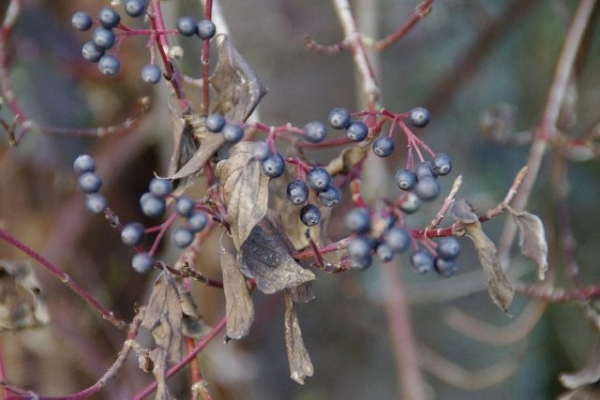 8. The snowberry
The snowberry (Symphoricarpos) — low shrub, is widely represented in urban landscaping. Most often it is cropped or freely growing hedges. In the summer we pay less attention to the snowberry because of its inconspicuous dull green leaves and small subtle flowers. But as soon as the leaves circled the snowberry immediately flashed a lot of white berries, stuck to the bushes, like little snowballs.
The snowberry seems to us so commonplace that it is rarely planted in the garden. And in the best case — put in the front garden. However modern varieties of shrub are very unusual pink berries, which revived the culture of interest among gardeners. Pink color have such varieties of snowberry as «the Mather of pearl» with very large berries, and «magic berry» and «Amethyst». The berries of snowberry poisonous!
The size of the adult plant: shrub from 1 to 2.5 meters, depending on the variety.
Exposure: partial shade light, the sun.
Colouring: white, pale pink.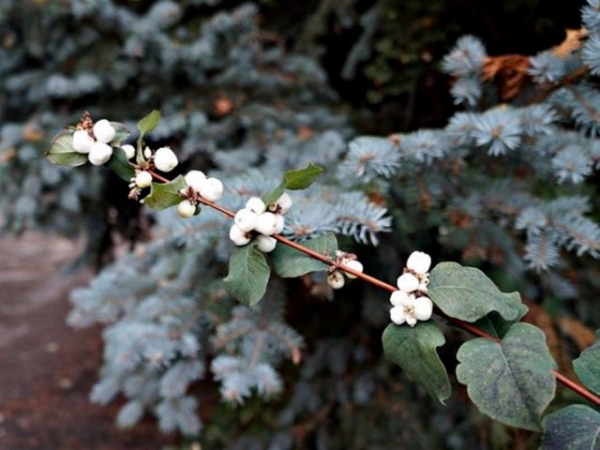 9. Elder
Garden forms of elderberry (Sambucus) recently are gaining more and more fans among gardeners. Elderberry is a very beautiful carved leaves. Which can have different colors: gold («Plumosa Aurea»), dark purple («black lake»), belookaymlennye («Madonna»).
This is a very undemanding plant that grows quickly and requires virtually no maintenance. Berries , red elderberry (cystistat) inedible. The fruits of elderberry are edible. But they are not recommended to eat in large quantities without prior heat treatment or drying. Great to decorate your garden in winter!
The berries of elderberry is widely known for its beneficial properties. This files most often based on them make the syrup, or lozenges, which is indicated in the treatment of colds. It is believed that the roots of the elderberry repel mice and rats.
The size of the adult plant: a shrub from 1.5 to 3.5 meters.
Exposition: sun, partial shade light.
The colour of the fruit: red, dark purple.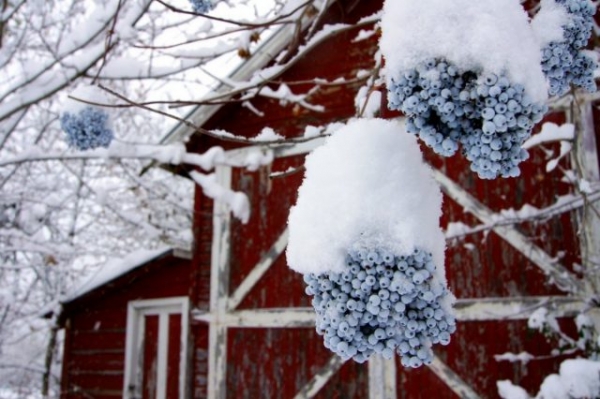 Dear readers! Plants with winter berries is not only a garden decoration. But also valuable sources of food that can save the lives of many species of wild birds. Even those birds that are insectivorous in the summer, woodpeckers, Robins, waxwings, mockingbirds and others — begin to eat the berries when it's cold weather. The trough is not the only way to help wild birds survive the winter. It is necessary not only to establish in gardens bird feeders, but to plant trees and shrubs with winter fruits, and summer birds will always reward you, protecting your garden from insect pests.
I hope this article was useful to decorate your garden in winter!
More interesting links for your attention:
Vegetables and Barley Soup preparation for the winter
How should be dried removed onions and garlic
Dutch cabbage: planting, care, types
Proper planting of cedar seedlings in the garden